Egypt denies talks on hosting Russian airbase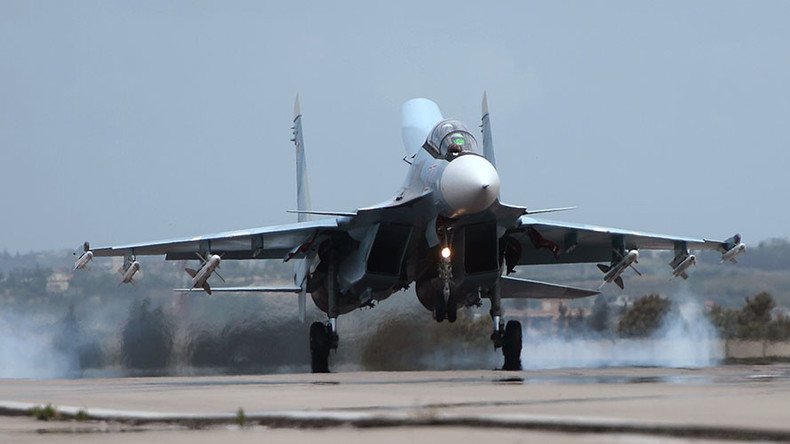 Egyptian officials have denied a report in the Russian media which claimed that Moscow and Cairo are negotiating a deal on a Russian airbase in western Egypt.
Egypt's Al-Ahram daily reported the president's office as stating that it would not allow foreign foreign military bases on Egyptian coasts.
Earlier on Monday, Russian newspaper Izvestia cited its diplomatic and military sources as saying that Cairo and Moscow were in talks on a deal which would allow Russia to deploy a military facility in the North African country.
"The negotiations over possible participation of Russia in rebuilding of Egyptian military sites on the Mediterranean coast near Sidi Barrani are quite successful. If both parties agree to the terms, as soon as 2019 the base may become operational. Cairo is ready to lease it to Moscow because it would use it to pursue high-priority geopolitical goals, which align with Egypt's interests," a diplomatic source told the newspaper.
Sidi Barrani is a small coastal town about 100km from the Libyan border. The Soviet Union had a small naval facility near the town until 1972, which was used to monitor US naval forces deployed to the region, the report said.
The diplomatic source said that the planned new facility would be operated by the Russian Air Force rather than the Navy. At least initially, only a small contingent would be deployed, the source said.
A military source told the newspaper that the new asset would be convenient, considering the growing instability in the region.
"The utility of an airbase near Sidi Barrani is obvious for Moscow. Even though Russia has a similar base in Syrian Khmeimim, the presence of Russian warplanes in Egypt would allow Moscow conduct military missions in the western Mediterranean," Talaat Musallam, a strategic and security expert and former Egyptian armed forces general told the newspaper.
"Libya, which remains in turmoil, would be a potential place of action," he added.
Commenting on the report, military expert Nabil Fuad told RIA Novosti that Egypt's military doctrine does not allow it to host foreign-controlled military bases.
"That is a principal issue for Egypt not to allow foreign military bases on its territory," he said, adding that during the Cold War Soviet military specialists would work at Egyptian military facilities, rather than have their own.
READ MORE: Russia plans $4.6bn investment in Egypt's industrial zone

Egypt, a long-time ally of the United States, somewhat distanced itself from Washington after a period of instability, which started with mass protests against strongman Hosni Mubarak in 2011.
Cairo's relations with Russia saw resurgence, particularly in defense sphere. Russia was the first non-Arab country that President Sisi visited after his election in 2014.
Later this month Russian Airborne Troops are to stage joint counterinsurgency military exercise with their Egyptian counterparts. The drill would be the first time in decades that Russian troops and military hardware would be airlifted to northern Africa on such a scale.
You can share this story on social media: