Ethiopia imposes state of emergency after more than 500 deaths in months of unrest
Published time: 10 Oct, 2016 09:42
Edited time: 10 Oct, 2016 09:47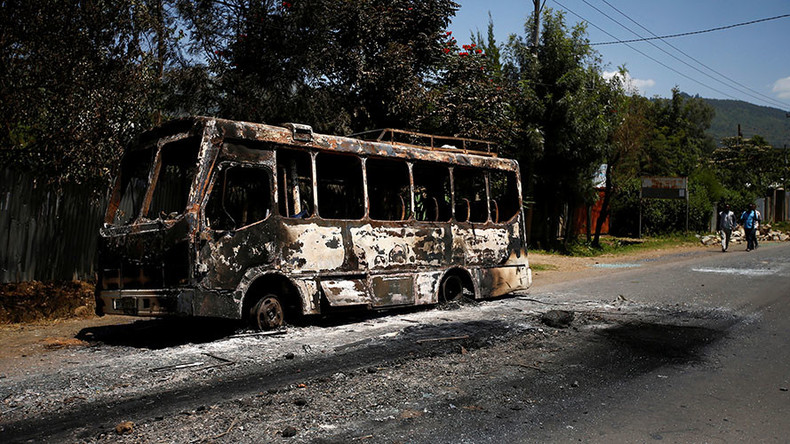 Ethiopia imposed a state of emergency following months of protests that have claimed more than 500 lives, according to rights groups. The discontent came amid the rollout of new development plans, but more broadly targets a stagnant human right situation.
The government's made the announcement after the latest escalation on October 2, which saw a march evolve into a large stampede.
"The government says 55 people were killed – some fell into nearby gullies and drowned," NPR reported. "The opposition says many, many more people lost their lives." According to various accounts, thousands have been arrested over recent months, and hundreds more have died.
On Sunday, a week after the unprecedented spike in unrest, Prime Minister Hailemariam Desalegn addressed the nation on TV to declare a state of emergency that is to last six months, expressing concern about grave property damage and a threat to people's lives.
"We put our citizens' safety first. Besides, we want to put an end to the damage that is being carried out against infrastructure projects, education institutions, health centers, administration and justice buildings," the PM said in his televised address.
The deadly stampede that hit a religious festival in the town of Bishoftu on October 2 grew out of a street march. The crowd was both celebrating the annual Irreecha thanksgiving festival and holding up banners and fists as a show of protest against human rights abuses inflicted on the Oromo and Amhara ethnic groups.
The march culminated at a music stage, where armed forces were waiting with tear gas, riot gear, and live ammunition. They opened fire and deployed tear gas, resulting in mass panic. Many demonstrators frantically tried to escape, while some ran to trees and trenches for cover, according to videos publicized last week.
This is Ethiopia's first state of emergency in a quarter-century, according to NPR. The Oromo and Amhara together make up around 60 percent of the population, while the country's five other main ethnic groups – including the Tigray and the Somali – only comprise under six percent each, sometimes less, according to the CIA World Factbook.
Anger from the Amhara and Oromo finally boiled over due to their marginalization and scant political representation. The issue extends to political and land rights as well, and touches on foreign-owned businesses, which the populace sees as a threat. Cement, textile, flower, and food businesses came under attack in last week's unrest.
According to state-owned Fana Broadcasting Corporate, the disruptions have affected more than 40,000 workers.
Experts say this could cause substantial damage to the country's economy, as Ethiopia seeks to present itself as an active international trade partner ready for increased foreign investment.
The protesters participating in last week's march were by no means homogeneous in their grievances, however. For example, the Muslims are opposed to government-imposed leaders, while the broader farming segment is opposed to the increasing commercialization of agriculture.
There is tribal anger, as well. Power in the country belonged to the Amhara, before they were overthrown by the Tigray in a 1991 rebellion.
The United Nations High Commissioner for Human Rights (UNHCHR) and international rights groups have called for an independent investigation into the events that sparked the October 2 stampede. UNHCHR spokesman Rupert Colville has called on the army to exercise restraint "and conduct themselves in line with international human rights laws and standards."
Since 2007, the UN human rights body has requested 11 special procedures to investigate government crackdowns, but according to Horne, the Ethiopian government has refused on every occasion, save for one, involving the special rapporteur on Eritrea.
Human Rights Watch's senior Africa researcher, Felix Horne, said, "The world should be carefully watching what is happening in Ethiopia… "As more and more people are killed in protests this year, the government should urgently change course to prevent more bloodshed."
"On one hand, the government wants to play a leadership role on the world stage, as seen in its membership on the Human Rights Council and the UN Security Council, but on the other, it has resisted any international involvement in its own affairs,'' Horned added.
A UNHCHR request was renewed last week.
Protests continued in and around Addis Ababa and the wider region on Sunday. Witnesses tell the AP that there have been many instances of street crime, including ambushes of cars trying to drive through the city's outskirts.
The government media says it will report more details on the state of emergency later on Sunday.
It has also issued a statement on Monday, blaming regional powers for upsetting the balance in the country and arming opposition groups. Egypt and Eritrea are particular targets, owing to the border and water resource disputes they have with Ethiopia.
"There are countries which are directly involved in arming, financing and training these elements," government spokesman Getachew Reda was quoted by Reuters as saying at a press conference.