UNSC Syria resolution vetoed by Russia was 'initiated by those obsessed with regime change' – Moscow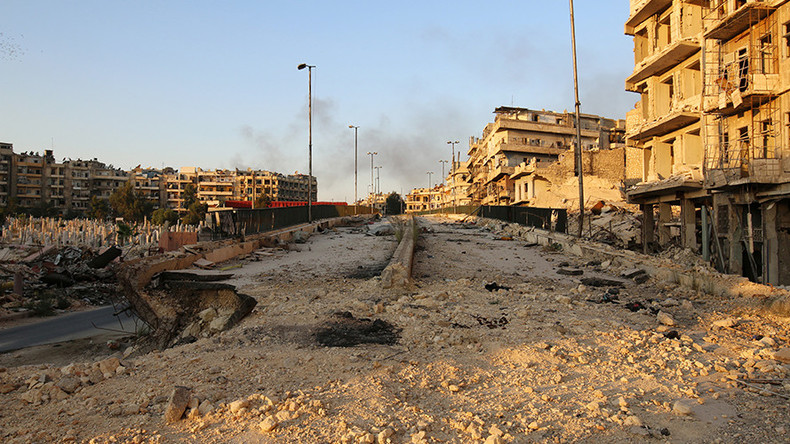 Sponsors of a French-penned draft resolution that Russia vetoed at the UN Security Council are obsessed with having the Syrian government overthrown by foreign-sponsored international terrorist forces, the Russian Foreign Ministry has said.
Russia blocked the French draft resolution at Saturday's UNSC meeting and suggested an alternative that failed to win enough votes from the other council members to pass. The French project was biased against the Syrian government, which was named as the sole party responsible for the escalating violence in Syria, the Russian Foreign Ministry said in a statement released on Sunday.
The document "blatantly attempted, by issuing a no-fly zone over Aleppo, to protect the terrorist group Jabhat Al-Nusra [aka Al-Nusra Front or Jabhat Fateh al-Sham] and the militant groups that have merged with it, in contradiction to the responsibility undertaken by all UN members to fight against the terrorist threat by all means necessary," the statement says.
The draft also failed to acknowledge that militant groups were playing a key role in blocking humanitarian aid from reaching Aleppo and ignored the goal of assuring a political transition, "which the opposition forces, supported and whitewashed by the West, are derailing," according to the statement.
The sponsors of the French draft "failed to demonstrate political wisdom," sacrificing the potential for a positive outcome for the sake of "a PR stunt that exploited humanitarian issues for political gains," the statement says.
"The failed attempt to abuse the authority of the UN Security Council confirmed the obsession of those who initiated the French draft resolution with the idea of anti-constitutional change of power in Syria at the hands of international terrorism generously fueled by foreigners," Russia's Foreign Ministry said in the statement.
Russia vetoed the draft because "it would be unacceptable to allow Syria to share the fate of Iraq and Libya, the invasions of which started the destabilization of the Middle East, which has resulted in the creation of ISIS [Islamic State, ISIL/Daesh] and new reincarnations of Al-Qaeda like the Nusra Front. Too bad our partners don't learn from history," the statement continues.
Russia expressed regret that actors favoring the escalation of tensions in Syria prevailed and damaged the peace process. Moscow said it was prepared to work on a sustainable solution of the Syrian crisis along the lines it has previously agreed to.