German police storm another flat in Chemnitz; arrest man with links to 'bomb plot' suspect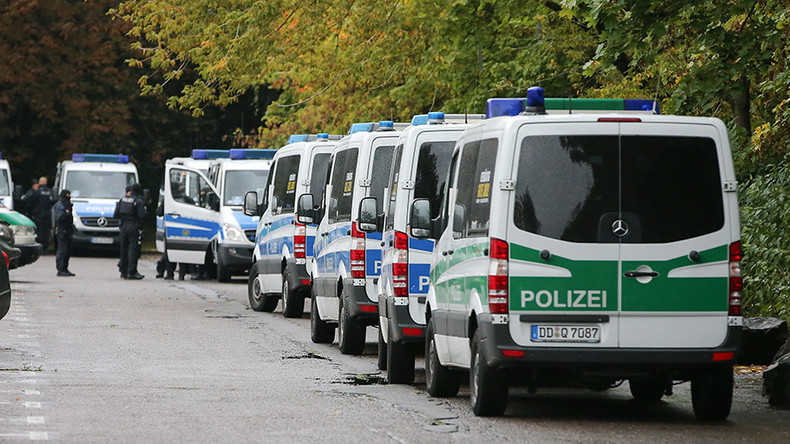 German police have detained a man in Chemnitz who allegedly maintained contacts with a 22-year-old Syrian suspected of planning a bomb attack.
An anti-terrorist operation was launched in Chemnitz on Saturday after police discovered "highly sensitive explosives" in an apartment belonging to Jaber Albakr, who has now been put on the wanted list.
In a Twitter post, police confirmed the detention of a person having links to Albakr.
In #Chemnitz, Clausewitzer Str. kam es weiteren Zugriff durch SEK. Es gab Hinweise auf bestehende Kontakte zum Tatverdächtigen.

— Polizei Sachsen (@PolizeiSachsen) October 9, 2016
Alkbar's suspected accomplice was arrested in Yorckgebiet, an eastern district of Chemnitz, which was cordoned by police that launched another anti-terrorist operation on Sunday, German media report.
According to the Bild daily, the district's residents heard an explosion. It was later reported that police used stun grenades as they stormed the apartment where the bomb plotter's suspected accomplice lived.
The prime suspect, Jaber Albakr, is still on the run. Police warn that he could be armed and also have explosives. Police failed to find him after explosive materials were discovered in his flat in Chemnitz on Saturday, despite an intense search.
READ MORE: Manhunt for Chemnitz 'bomb plot' suspect: German police looking for 22-yo Syrian-born

After receiving intelligence reports about a terror plot being planned in the city on Friday night, Police launched a large scale security operation in which three people of Syrian origin were detained on suspicion of having links to the plotter.
Two have since been set free, but the third is still being held on suspicion of complicity in the plot, police said in a Twitter post, adding that the court is still reviewing his case.
Von den Festgenommenen in #Chemnitz sind 2 wieder frei.Gegen 1 Person besteht Verdacht einer Mittäterschaft - richterliche Haftprüfung läuft

— Polizei Sachsen (@PolizeiSachsen) October 9, 2016
Chemnitz is the third-largest city in Germany's eastern state of Saxony, which has already been hit by a number of explosions recently. Two improvised explosive devices went off in Dresden, Saxony's capital, less than two weeks ago, which targeted a mosque and an international conference center. No one was injured in those attacks, although the mosque was severely damaged, according to police.
Police have conducted several raids on Islamists suspected of planning terror attacks across Saxony in recent months.