Car bomb kills 18, injures 27 at military police station in southeastern Turkey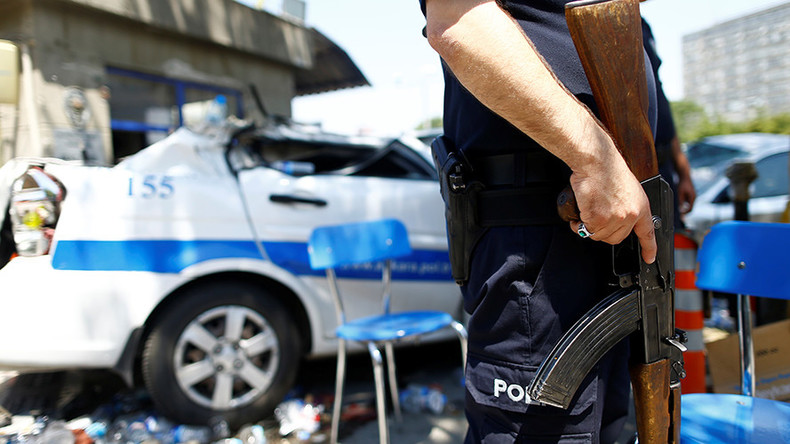 Ten soldiers and eight civilians have been killed in a car bomb blast near a Gendarmerie station in the southeastern Turkish town of Semdinli, local media reported. The area has seen continued fighting between Turkish forces and Kurdish militants.
The death toll from the car bomb blast has risen to 18, including ten military police and eight civilians, Turkish Prime Minister Binali Yildirim said, according to NTV. Twenty-seven others, including 11 soldiers, are said to be injured.
A vehicle was detonated outside a gendarmerie station in Semdinli earlier on Sunday, according to local broadcaster NTV. The blast took place during car searches that were being conducted at a checkpoint around 20 kilometers (12 miles) from the town center.
Later in the day, Turkish General Staff said in a statement cited by Haberturk TV that eight soldiers had been killed and five injured in the blast, citing the latest casualty figures available at the time.
It is yet unclear whether the attack involved a suicide bomber or a remote-controlled detonation.
Although no organization has claimed responsibility so far, the General Staff claimed that the Kurdish Workers' Party (PKK) was behind the attack.
The town of Semdinli is in a mountainous area bordering both Iraq and Iran, where fighting between Turkish forces and Kurdish Workers' Party (PKK) militants has been taking place.
A wave of explosions that rocked Turkey earlier this year, killing hundreds of people, has been blamed on either Kurdish militant groups or Islamic State (IS, formerly ISIS/ISIL).
READ MORE: Terror timeline: Turkey's year of spiraling violence

In the most recent incident, at least 30 people were killed and almost 100 injured in August, when a suicide bomber targeted a wedding ceremony in the city of Gaziantep close to the Syrian border. Authorities said that IS was the likely behind that attack.
The deadliest terror attack in recent years took place at Istanbul's Ataturk airport in late June, when three blasts left 43 people dead and 239 injured. That terrorist attack has also been blamed on Islamic State.
Intense fighting broke out between Turkish security forces and the PKK last year following the collapse of a fragile truce that had been respected for over two years. More than 600 Turkish troops and thousands of Kurdish militants have been killed since then, according to Turkish media.