Russian MPs back unlimited deployment of Air Force in Syria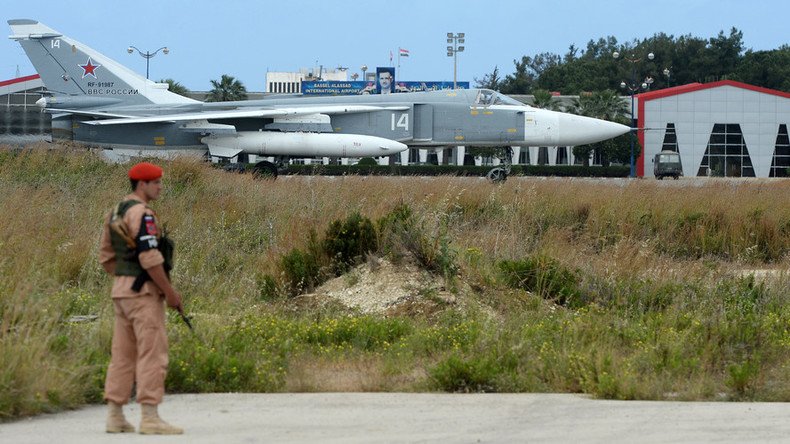 The lower house of the Russian parliament (the State Duma) has ratified an agreement allowing the country's Air Force to stay in Syria on an unlimited basis. Combatting terrorism is cited as one of the key goals.
The ballot took place on Friday with all 446 legislators voting in favor of the agreement, which will be applied "for an unlimited period and is timely applied from the date of its signing."
It is expected that the Federation Council, Russia's upper house of parliament, will review the document on October 12.
The deal states that the Russian Air Force is stationed at the Khmeimim airport in Latakia at the request of the Syrian government. A draft of the respective document was submitted by Russian President Vladimir Putin to the State Duma on August 9.
The agreement itself was signed between Moscow and Damascus on August 26 last year, with both states emphasizing that the deployment has a strictly defensive character.
According to the document, the Russian Air Force will act on the orders of its commander and in compliance with the Syrian authorities. The deal "meets the objectives of maintaining peace and stability in the region," TASS cited MP Leonid Slutskiy as saying.
He added that the agreement also aimed at boosting internal Syrian dialogue as the country witnesses its sixth year of civil war. The deal envisions that the deployment of the Russian contingent will be free of charge.
"Weapons, ammunition, equipment and materials necessary to perform the tasks of the Russian aviation group to ensure the safety and life of its personnel will be imported into Syria free of charge," the documents says.
It adds that Russian personnel will be guaranteed immunity, as it would be the case with a diplomatic mission.
Russia initially deployed its Air Force to Syria in 2015 at the request of the country's president, Bashar Assad, to help aid the fight against Islamic State (IS, formerly ISIS/ISIL) and other terrorists.
Russian jets hit their first targets on September 30, with the unfolding mission allowing the Syrian Army to advance against terrorist positions across Syria.
Five months later, on March 14, 2016, Vladimir Putin announced that the key goals of the mission have been accomplished and ordered the withdrawal of the majority of the Russian forces.
Aside from the military presence at Khmeimim airfield, Russia is also hosting a naval supply base in the Syrian port city of Tartus.
Earlier this week, Moscow confirmed the deployment of its S-300 air-defense systems to Syria to protect its ships and the naval hub. Russia insisted that the weapon is a "purely defensive system and poses no threat."
Russia also has S-400 missile defense systems at Khmeimim base that were placed there after Turkey downed a Russian SU-24 jet in November 2015.
You can share this story on social media: