'Get out of Canada': Students angered, concerned after finding dozens of anti-Muslim posters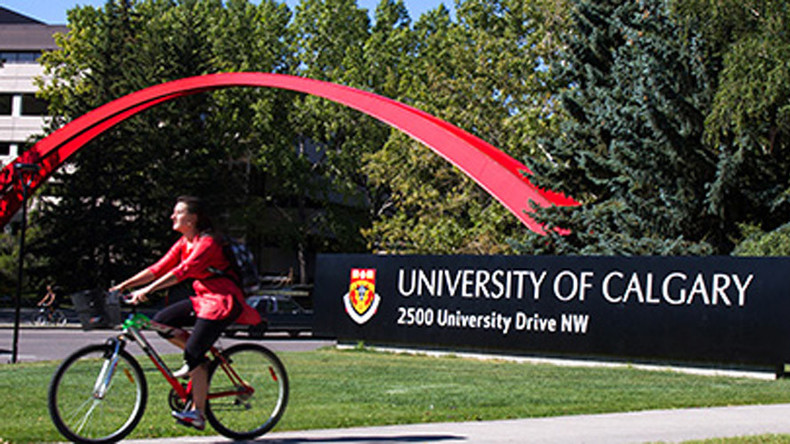 Muslim students at the University of Calgary say they're feeling vulnerable after anti-Muslim posters making derogatory references to the Koran and the Prophet Muhammad were found on campus. The university says campus security will now be reviewed.
Around 40 posters were found by students at 6:45 a.m. on Tuesday. The flyers said "Dear Muslims, f**k your beheadings, f**k your Sharia, f**k your genital mutilations, f**k your TAQIYYA, f**k your [Muhammad], f**k your [Koran]."
They went on to state: "On the other hand, you can keep your barbaric ways, right where they belong, in your 7th century homeland!"
At the bottom of the posters was the hashtag #GetTheF**kOuttaHere.
Some also contained links to a Facebook page which calls for Islam to be banned in Canada, as well as one which purports to "celebrate Canada's European heritage," CBC reported.
Campus security quickly took the posters down, but other flyers and similar hate literature were later found in parking lots and residential mailboxes off campus.
One of those posters addressed "Muzzies," telling them to "get the f**k out of our countries, and go back to the monstrous s**tholes you come from."
Muslims on campus told the National Post that the flyers made them feel scared, particularly when it comes to those who are 'visibly' Muslim.
"I don't wear a scarf, you can't always tell if I'm a Muslim. But for those that do, this is tougher," said Umair Tazeem, president of the Muslim Students' Association.
Following the discovery of the posters, students and faculty gathered to condemn the flyers. They wrote messages of support and tolerance on hard-shaped pieces of paper, with some hanging those notes from tree branches, CBC reported.
University of Calgary president Elizabeth Cannon also turned up to write a message of support, and told reporters that the incident is "truly disturbing and makes me personally very angry."
She went on to state that while she believes the campus has "terrific" security, it will be analyzed to see "if there is more that we can do."
Cannon said the university is checking surveillance video and working with police to find those responsible.
Those behind the flyers could face a number of criminal charges. Under certain sections of the Criminal Code of Canada, inciting hate propaganda against any identifiable group can result in a maximum jail term of five years.
Tuesday's incident comes less than three weeks after hate literature was distributed at another university campus in Alberta in September. Those flyers featured a picture of a Sikh man alongside profanity about turbans. They included a statement calling on people from developing nations' cultures to leave Canada.
The university incidents come after a progressive move by the Canadian government in August, in which it announced that female officers of the Royal Canadian Mounted Police could wear hijabs, in an effort to boost the recruitment of Muslim women and promote diversity.
You can share this story on social media: