Italian school says refugees to use separate bathroom over 'disease' concerns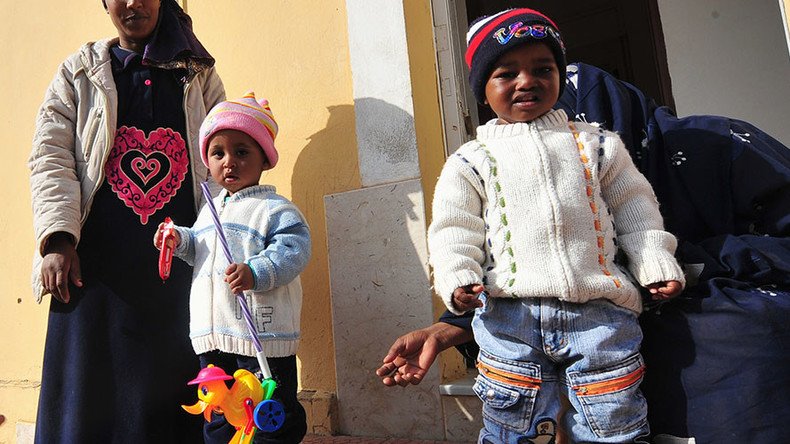 A Catholic school in Sardinia has decided to ask African refugee children to use separate bathrooms after parents claimed the refugees posed a "health risk" to their kids, with some even transferring their children to other schools, a local newspaper reports.
According to Italy's La Stampa, the story involves two refugees from Egypt and Ethiopia, aged nine and 11, living in Cagliari, Sardinia and enrolled at a private Catholic school there. They were within an inch of death as they made the perilous boat journey from Libya, before they were rescued by the Italian military earlier in 2016, along with 380 other people on that boat.
Their parents are believed to have drowned, and the two were entrusted to two Italian lawyers by the Juvenile Court in Cagliari.
Parents of other children at the primary school believed that the two Africans would infect their children and staged a protest. Several parents even insisted on moving their children to a different school.
Trouble first started when the two kids noticed that other children wouldn't socialize with them. It later emerged that this was the result of the parents' concern that they may have brought unknown African diseases with them to Italy.
One would think a medical certificate stating otherwise would suffice, but this was not the case here, and the parents remained undeterred.
La Stampa spoke to some of the Italian children. "My father told me to stay away from these two children, he told me that they could have dangerous diseases," one said. "To me, however, they are very nice, they don't speak Italian but we understand each other in gestures," they added. "And they are always smiling."
One of the guardians, Antonella Taccori, told the paper: "It is not acceptable that the parents pretend the medical report is not enough." The other, Marina Bardanzellu, added: "It does not happen when a child has a cough or a cold – this shows the health concerns are hiding real racism."
The real reasons started to pop up quickly when the parents were probed further. The top concern was the African children could have been older than they said they were.
"They have no documents, we do not like to think our daughters are in class with older boys. We do not feel safe," one parent said. "There was a rumor they are at least 14 and that's why we asked to have separate bathrooms."
School staff now worry the school's reputation could have been irreversibly harmed.
"This story has hurt us, we are concerned about it, as racism is like a contagious virus, and we will do everything to ensure pupils are never infected," Sister Redeemed, who teaches fifth grade, says.
A number of parents have also spoke out in defense of the school.
"This is an excellent school, I have enrolled all my children here," Luca, a father, says. "Some parents are doing their best to make a fool of the entire city."
You can share this story on social media: