Pope Francis smooths sainthood path for ISIS-slain Normandy priest
Published time: 3 Oct, 2016 12:55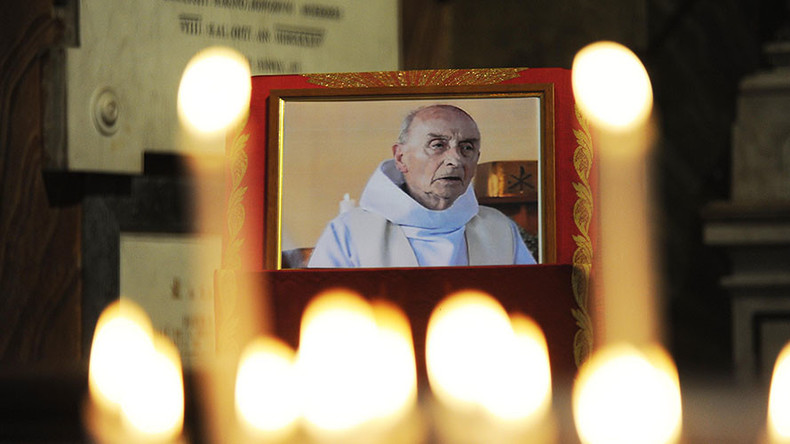 Pope Francis is looking into elevating Reverend Jean Hamel, who was murdered in the name of Islamic State, to sainthood. The pontiff has authorized the French Church to start looking into the matter. Witness testimony will now be gathered.
Francis told reporters on Sunday he had spoken with the French authority, according to the AP.
Reverend Hamel, 85, was killed on July 26 in his parish in Normandy, while celebrating mass. The murder was carried out by two 19-year-old Islamic State (IS, formerly ISIS/ISIL)-inspired radicals, who slit his throat. IS then claimed responsibility for the assault, which also saw two nuns and an elderly couple held hostage.
The pope gave a press conference on his flight back from Azerbaijan to Rome, where he told reporters he has sped up the canonization process. The pontiff had spoken to Cardinal Angelo Amato, the prefect of the Congregation for Saints' Causes, and authorized the skipping of the usual five-year wait that must normally pass after a potential saint's death.
This means the next stage will now begin: the gathering of witness testimony to back Hamel's beatification.
"It is very important not to lose the testimonies," he told attendees. "With time, someone may die, another forgets something," he was quoted by the Catholic Herald as saying.
Beatification in Roman Catholicism is the declaration by the Pope that a deceased person has attained a state of bliss. This is considered the first step to canonization, and leads to the possibility of public veneration.
The five-year rule ensures that a person continues to keep their good reputation among the faithful, earning them the right to be beatified. However, it can be waived by the Supreme Pontiff. A series of formal steps are included before beatification takes place.
The most important steps concern proving that the deceased had accomplished a miracle. A scientific commission must also rule that the miracle has no natural scientific explanation. A theological commission must then rule if the miracle is a miracle in the strict sense of the word, i.e. that it could only have come from God.
The proven miracle requirement can also be waived at the beatification step, if the person is ruled to have died a martyr in service of the faith, which will likely be the case with Rev. Hamel.
The next step to canonization, however, requires proof of a second miracle.
Archbishop Dominique Lebrun of Reverend Hamel's native Rouen had earlier on Sunday begun an investigation into Hamel's beatification following consultations with the pope.
The archbishop spoke at a Mass marking the reopening of the church where Hamel was murdered.
Mayor Hubert Wulfrance said the priest's memory "prevails over this so special moment, split between endless emotion and hope in the future."
"We bear the tragedy of this July 26th, 2016, as an indelible scar on our common history, our national history," he added.
The gathered crowd included a sizeable proportion of Muslims.