Trump would have good effect on L. America, but I'd vote Hillary – Ecuador president to RT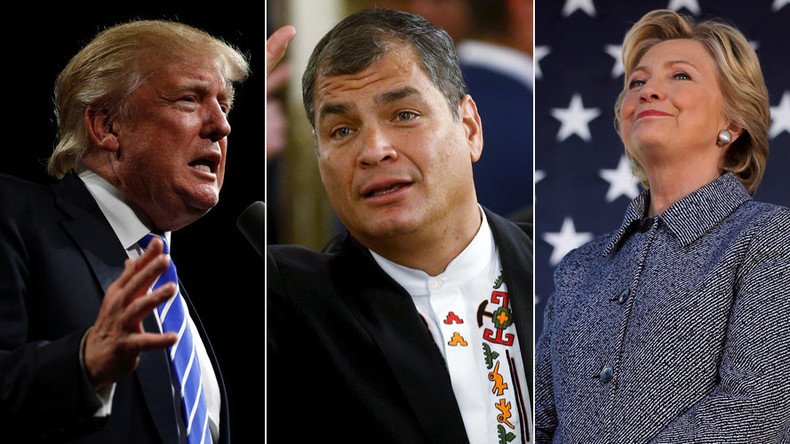 A US President Trump would be good for Latin America because, like George W. Bush, he would boost support for left-wing parties, Rafael Correa, the president of Ecuador, told RT Spanish. But if he were a US citizen, President Correa would vote for Clinton.
Ecuadorian President Rafael Correa's position resembles that of his US counterpart Barack Obama. He is about to step down as president and is barred by the constitution from running again. While his PAIS Alliance party is yet to choose the candidate for the election, which is to take place in February next year, he was willing to discuss his preferences for America's next head of state.
READ MORE: Donald Trump lays out immigration policy at Phoenix rally
"For the US it would certainly be better if Hillary won. I know her personally and have a great deal of respect for her," the Ecuadoran leader told RT Spanish.
"But I sincerely believe that it would be better for Latin America if Trump won. When did progressive governments come to power in Latin America? During the [George W.] Bush administration. His primitive policies were rejected so much that it caused reaction in Latin America. Trump would do the same," Correa said, adding that he personally wishes Hillary Clinton luck in the November election.
Speaking of Obama's legacy for Latin America, Correa said he "didn't do that much".
"Certainly, restoring ties with Cuba was a historic event. But what about the economic embargo? I assure you that Cuba would welcome the lifting of embargo much more than the restoration of ties," he said.
"What about Guantanamo or what he did to Venezuela?" he added, referring to the continuing failure to shut down the US military prison for terrorism suspects on Cuban soil, and the US decision to impose sanctions on Venezuela last year.
"They believe they are an arbiter of who is good and who is evil. I don't know who entitled them to be the gendarme of the world," Correa added.
"The US foreign policy maintains double standard. They don't care whether a government is good or bad, whether a leader is honest or corrupt. It's about whether he is with them or against them."
Correa, a left-wing politician, is concerned with the turn to the right that several Latin American countries, including Argentina and Brazil, have recently experienced. He and some other leftists say their right-wing opponents are acting against democratic principles when they play dirty, as with the impeachment of former Brazilian President Dilma Rousseff.
"Now we see parliamentary coups. And even Latin American integration, which was respected by both right and left forces, and by all governments, is under blatant attack. It's not a just a resurgence of conservatives, who were our opponents, but still played within democratic rules. There are no borders or conscience now. That is why we call this a new Operation Condor," Correa said, referring to the tactics used by dictatorial governments during the Cold War to stem communism.
You can share this story on social media: