Abbas & Netanyahu exchange historic handshake at Peres funeral (VIDEO)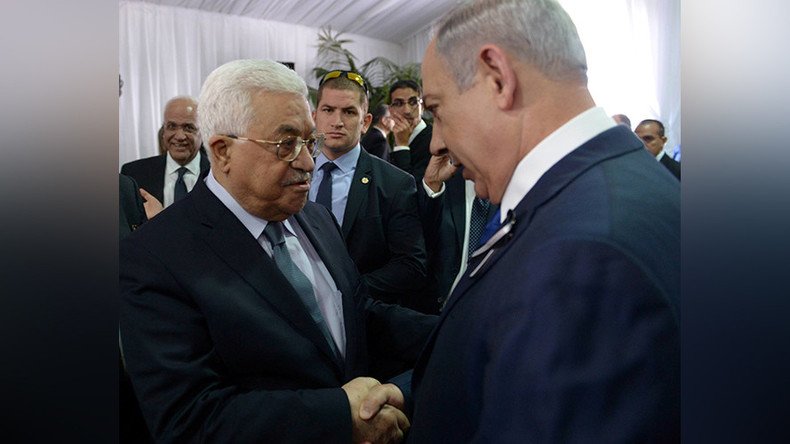 Israeli Prime Minister Benjamin Netanyahu and Palestinian President Mahmoud Abbas shook hands and exchanged pleasantries at the funeral of former Israeli statesman Shimon Peres in Jerusalem on Friday.
Abbas greeted Netanyahu and his wife in the surprise move filmed and photographed by surrounding funeral attendees.
Netanyahu, leader of the Likud party, had not met Abbas face-to-face in six years and acknowledged the significance of his attendance, saying: "It's something that I appreciate very much on behalf of our people and on behalf of us."
Israeli President Reuven Rivlin later tweeted that he had also spoken with Abbas before the funeral, saying that he "stressed the need to build confidence between the sides."
Relations between the Jewish state and the Palestinian Authority are at their lowest ebb for a number of years with repeated incursions into and the bombing of Gaza by the Israeli Defense Forces, the continued construction of illegal settlements on occupied Palestinian land, and an increase in stabbing attacks by Arabs on Israelis.
Current and former US Presidents Barack Obama and Bill Clinton were among a host of foreign dignitaries and heads of state attending Peres's funeral at the city's Mount Herzl cemetery, and both addressed the mourners.
READ MORE: Ex-Israeli PM and President Shimon Peres dies aged 93
Praising the contribution of former Israeli Prime Minister Peres to the search for peace in the Middle East, Clinton said: "He imagined all the things the rest of us could do. He started life as Israel's brightest student, became its best teacher and ended up its biggest dreamer.''
Obama also paid tribute to Peres, claiming: "He insisted that as human beings Palestinians must be seen as equal in dignity to Jews and must therefore be equal in self determination."
Peres, 93, who went on to become president of Israel towards the end of his career, died on September 28 after suffering a stroke some weeks ago.
He won the Nobel Peace Prize in the 1990s alongside then-Israeli Prime Minister Yitzhak Rabin and Palestinian leader Yasser Arafat for the Oslo Accords which aimed to bring about a final land-for-peace agreement between Israel and Palestine.
READ MORE: 'I still have nightmares': 13yo girl shot 5 times by Israeli soldiers speaks to RT
Peres fought in the Arab-Israeli War of 1948 and served as a member of the Knesset from the late 1950s. A senior figure in the Israeli army for many years, he was seen as a hawkish figure by many before eventually becoming open to compromise in the search for peace.
You can share this story on social media: