China to build 'world's largest' high-speed railway station under Great Wall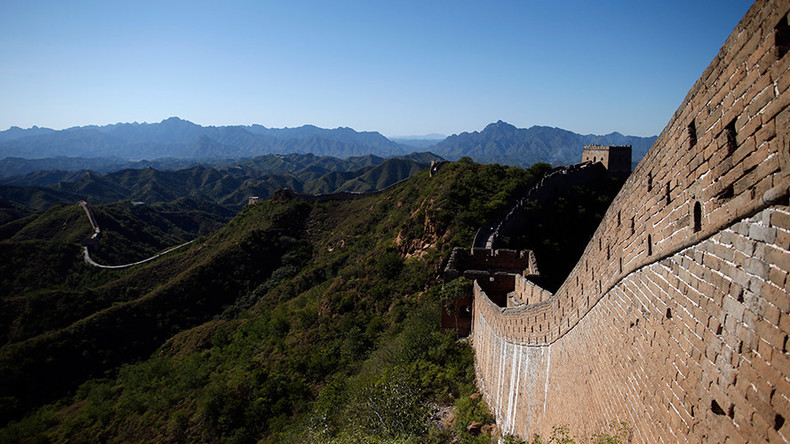 China has unveiled plans to build the world's deepest and largest high-speed railway station as part of its preparations for hosting the 2022 Winter Olympics.
The station will be built directly underneath Badaling – the most-visited section of the Great Wall of China, which attracts tens of thousands of visitors a day, Chinese media reported.
The station will have separate floors for arrivals and departures and will in a way resemble an airport, China Daily reports. It will be the size of five soccer fields.
"The Badaling station will be located 102 meters (335ft) below the surface, with an underground construction area of 36,000 sq meters (387,501 sq ft), equal to five standard soccer fields, making it the deepest and largest high-speed railway station in the world," Chen Bin, the director in charge of construction for the China Railway No 5 Engineering Group, told the People's Daily newspaper.
Two escalators with vertical heights of 62 meters, will be constructed at the station, Chen Bin added. They will be the highest in the country.
The three-floor underground station will be located along the railway which is currently being built to connect the cities of Beijing and Zhangjiakou, which will both host the 2022 Winter Olympics. The railway will stretch 174km (108 miles), and is expected to be finished by 2019.
The railway project has been set up as part of China's plans for the 2022 Games. Allowing a maximum speed of 350kmh (217mph), the railway will significantly shorten the time required to commute between key Olympic venues.
READ MORE: World's highest & longest glass bridge closes indefinitely 2 weeks after grand opening
The rail line is expected to cut the travel time from Beijing's North Station to the Olympics venues in Chongli, Zhangjiakou, from three hours to just 50 minutes. The Badaling station will be one of 10 stations located along the railway.
Badaling is considered to be "the most challenging" of the 10 stations to be built due to the mountainous landscape and vulnerable environment surrounding the area.
As the new railway line is to run through the mountains underneath the Great Wall, special technology will be used by the authorities, which are taking precautions in order not to damage the UNESCO World Heritage Site.
"It will run through mountains where the Great Wall is winding, so we adopted some of the world's advanced explosion technologies to guarantee it would not affect the Great Wall," said Luo Duhao, chief engineer of the railway group for the Badaling section.