Romanian Air Force swaps old Soviet fighter jets for second-hand F-16s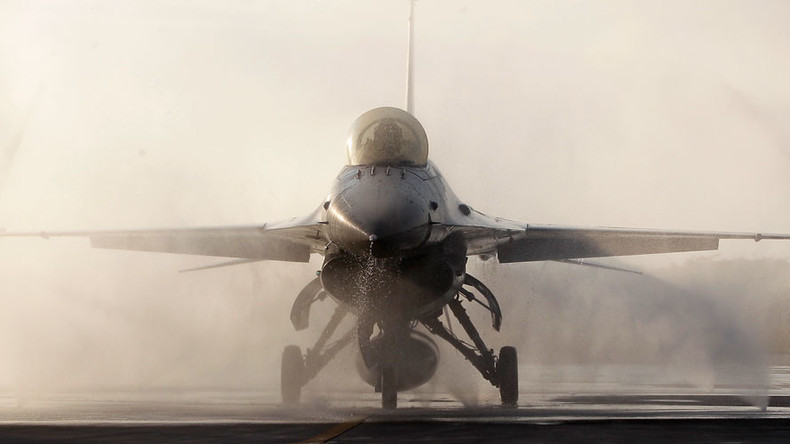 The first six of 12 F-16 fighter planes bought by the Romanian Air Force from the Portuguese government were handed over on Wednesday in a ceremony headed by the defense ministers of both nations.
Romania's military air fleet had been comprised of fewer than 50 refurbished MiG 21 Soviet fighter jets and other outdated fighting planes. The purchase of the used Portuguese aircraft is part of Romania's push for military modernization. Offers for a series of new planes, including JAS-39 Gripens and Eurofighter Typhoons, were reportedly made, but the deals were not finalized.
"The first six F-16 Fighting Falcons that bear the tricolor roundel of the Romanian Air Force will be officially taken over from Portugal tomorrow," Romanian National Defense Minister Mihnea Motoc wrote on Facebook.
"Although I hesitate to use big words when I speak of acquisitions, be them major, I must say that tomorrow will be a truly historical day for Romania and its army."
The Portuguese-Romanian deal was originally closed in 2013 for nearly €200 million (US$225 million), including the cost of the aircraft and training and logistical support. The 12 machines agreed upon were nine single-seater and three dual-seater F-16 jets, made by the US company General Dynamics, now part of defense giant Lockheed Martin.
Romania is believed to have spent €32 million alone on an airfield for the new planes.
Portuguese Air Force staff have been training an estimated 84 Romanian Air Force pilots, technicians and mechanics on how to use the planes. A Portuguese team will also be supporting the Romanian Air Force on the ground for the next two years.
Lockheed Martin's director Randall Howard told Romanian newspaper Ziarul Financiar in May that the country had the capacity to buy an extra 24 or 36 F-16 planes.
"Lockheed Martin is ready to support Romanian military developments, including the possible acquisition of further F-16 aircrafts and their upgrade to the latest model called F-16V" said Randall Howard.
Present at Wednesday's official handover ceremonies were Portuguese Prime Minister António Costa, as well as Motoc and his Portuguese counterpart, Azeredo Lopes.
The six remaining planes will be delivered in two phases – three before the year's end and the remaining three, which are still undergoing upgrades, in September 2017.
Lisbon is now considering Romania's offer to purchase a further 12 planes from the Portuguese air fleet. "Romania has made a request for the supply of another 12 planes, of which the project's liability is now being analyzed and would always have to draw in the three parties – Portugal, USA and Romania," the Portuguese Defense Ministry said.