Pro-life vs pro-choice: Protest over abortion ban law in Poland rages online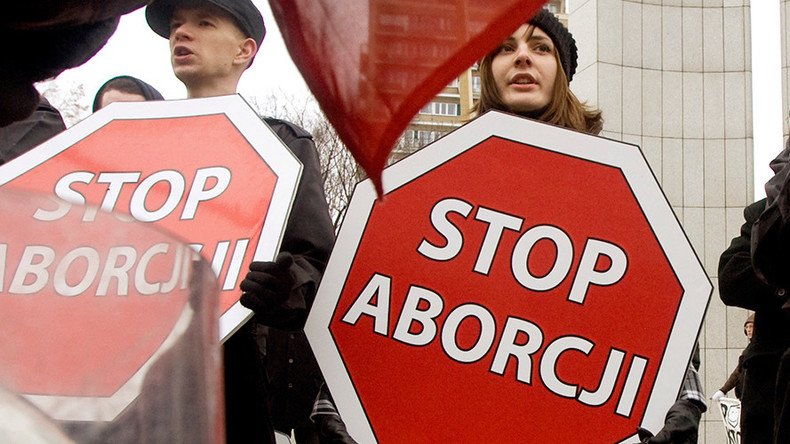 People on social media, both in Poland and beyond, have raised their voices in protest against a new abortion ban in Poland that may outlaw all terminations except when it's a matter of a woman's life or death.
As Poland is moving towards the final stage of debates on upgrading the abortion ban law in the parliament, the rhetoric used by supporters and critics of the idea is becoming more extreme. The draft law has been scheduled for discussion in the Polish Sejm, or parliament, on Thursday.
Those standing against the ban on social media have come up with the #CzarnyProtest hashtag which stands for "black protest." People from Poland and others willing to show their solidarity have been posting photos of them dressed in all black to symbolize their protest. More than 13,000 photos have been posted on Instagram so far.
Other symbols used by activists opposed to an abortion ban also include a woman's uterus against a black background.
The issue has also caught the attention of people from other countries, who predominantly sympathize with Polish women and call for relaxing the strict ban.
Pro-choice activists launched an initiative in parliament that would allow abortion until the 12th week of pregnancy, and have gathered 215,000 petition signatures in support, AFP reports.
Pro-life activists backed by the Catholic Church, on the other hand, are urging the government to carry out an almost complete crackdown on abortions by allowing the operation only when it's necessary to save a woman's life. Apart from that, the maximum prison sentence for practitioners who would still perform an unauthorized abortion is planned to be increased from two years to five. Women who seek this kind of service may also have to face a prison term.
The proposal to restrict the right to abortions was submitted for parliamentary consideration after it had garnered nearly half a million signatures in support when only 100,000 were required.
The 1993 law currently in force prohibits all terminations except in cases when a pregnancy is a result of rape or incest, puts a woman's life at risk or if a fetus is severely damaged or ill.
A recent survey published this week by the Newsweek Polska magazine has shown that some 74 percent of Polish people are sticking to a third opinion that the restriction should stay in place without any changes.
Mass protests organized by human rights activists and women's rights groups have been sweeping across Poland. A vast number of anti-abortion groups, present in staunchly Catholic Poland, have been staging their own rallies that attracted thousands of supporters.
You can share this story on social media: