'Flagrantly violating int'l norms': US jets caught spying on Non-Aligned summit, says Venezuelan MoD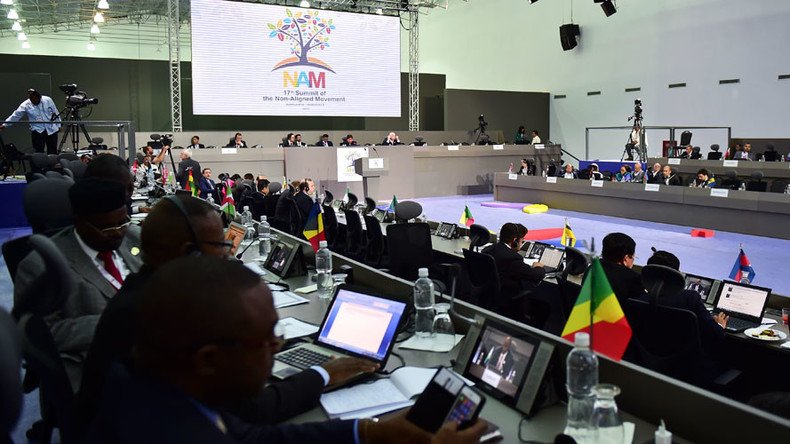 Venezuela's air forces detected and forced back two US aircraft that were collecting information on the Non-Aligned Movement summit, said Venezuelan Defense Minister Vladimir Padrino Lopez.
"We know a military aircraft carried out flight patterns 130 nautical miles from Margarita island, collecting information [and] carrying out intelligence operations on the summit," Lopez told press conference in Caracas on Tuesday, AP reported.
The statement came at the close of the 17th Summit of the Non-Aligned Movement, which took place on the Venezuelan Caribbean island of Margarita on September 13-18.
A US Coast Guard Dash 8 conducted an operation near Venezuelan airspace both on Friday and Saturday without notifying the Venezuelan military's air traffic controllers about its presence, thus "flagrantly violating international norms," Lopez said.
"Our fighter jets, commanded by the president, flew out, intercepted the aircraft and informed [the crew] of the violation it was committing. The aircraft agreed to return to its base," the minister added.
Lopez described the incident as a "provocation" caused by the fact that the US "underestimated" Venezuela's capability to take counter-measures.
It was not the first time US planes had violated Venezuelan airspace, the minister noted.
"It is not just this case, it is 32 violations of our airspace during 2016 alone. We again denounce this situation of a military plane conducting patrols in our airspace," he said, adding that Venezuela still stands for promoting on-intervention and peace and will defend its right for independence, Telesur reported.
READ MORE: US spy planes intercepted near Russian border had transponders off – Russian MoD
"In the name of the international community, we call on the United States to respect the international norms," he concluded.
Venezuela will formally protest the violation of its airspace, Foreign Minister Delcy Rodriguez said, according to AP.
In November 2015, a Dash 8 intelligence aircraft flew 12 miles (20km) into Venezuelan airspace for as long as 3.5 minutes, according to Venezuela Analysis. The US eventually apologized for the violation, saying the plane was actually on an anti-drug mission, monitoring a vessel that was reportedly carrying a ton of cocaine.
You can share this story on social media: