Smoking leaves lasting 'footprint' on DNA, leading to risk of cancer & disease – study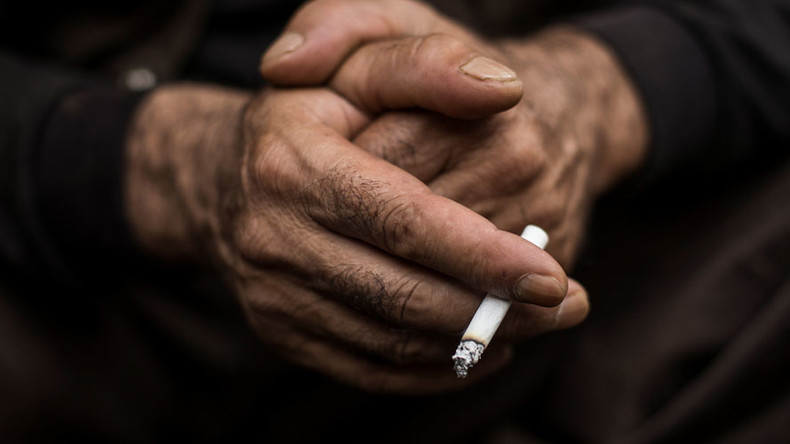 Smoking can profoundly damage DNA, altering thousands of genes which can contribute to smoking-related illnesses, including cancers and cardiovascular disorders, a new study says.
The research, published in the American Heart Association's 'Circulation: Cardiovascular Genetics' journal on Tuesday, found that smoking leaves lasting "footprints" on the genome for 30 years or more.
"Our study has found compelling evidence that smoking has a long-lasting impact on our molecular machinery, an impact that can last more than 30 years," study author Roby Joehanes of Hebrew SeniorLife and Harvard Medical School said in a statement.
READ MORE: Police take step toward creating 'wanted' posters from DNA, thanks to new study
The footprints are made in a process called methylation – an alteration of DNA which can inactivate a gene or change how it functions.
To understand how long such footprints typically last, Joehanes and his colleagues examined blood samples given by 16,000 people who were part of the Cohorts for Heart and Aging Research in Genetic Epidemiology (CHARGE) Consortium, including some from the Framingham Heart Study, which has been followed by researchers since 1971.
Those who had quit smoking and remained smoke-free for five years saw most of the footprints disappear. However, some DNA methylation sites remained even after 30 years of quitting.
The lasting footprints can lead to a long-term risk of developing diseases, including cancers, chronic obstructive pulmonary disease and stroke, according to the researchers.
"These results are important because methylation, as one of the mechanisms of the regulation of gene expression, affects what genes are turned on, which has implications for the development of smoking-related diseases," study author Stephanie J. London of the Epidemiology Branch at the National Institute of Environmental Health Sciences, National Institutes of Health, said.
"Equally important is our finding that even after someone stops smoking, we still see the effects of smoking on their DNA," London added.
Although the findings show that quitting does not necessarily erase the risk of developing smoking-related illnesses, Joehanes said the fact that most of the methylation signals return to "never smoker" levels after five years is encouraging news because it means the body is "trying to heal itself of the harmful impacts of tobacco smoking."
The team said the discovery raises the possibility of developing biomarkers to evaluate a person's smoking history, as well as potentially develop new treatments targeted towards methylation sites.