'Killer haze' caused 100,000 deaths in Southeast Asia in 1 year – study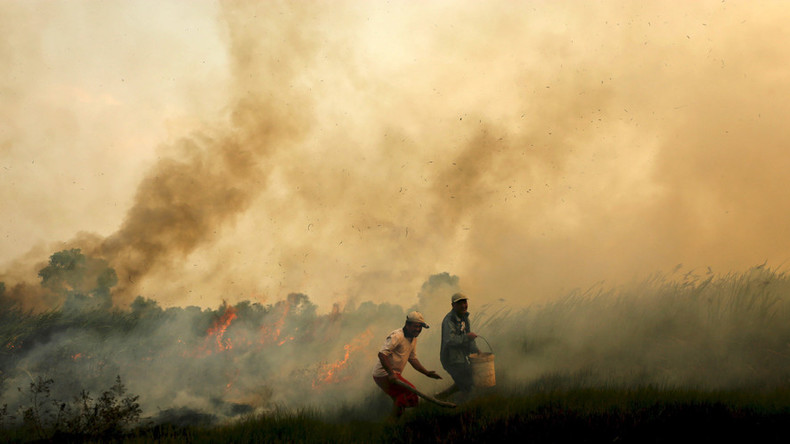 A series of forest fires followed by a devastating smog outbreak in Southeast Asia last year may have led to as many as 100,000 premature deaths, a new study has shown. The numbers are tens of thousands of times higher than those officially declared by authorities.
The haze in Southeast Asia which lasted for several months last year resulted in some 91,600 deaths in Indonesia, 6,500 in Malaysia and 2,200 in Singapore, scientists from Harvard and Columbia Universities said in a new study published in the journal Environmental Research Letters on Monday.
During the study scientists used satellite data and computer modeling to estimate the potential number of deaths. The results showed that the smog had a capacity of killing somewhere between 26,300 and 174,300 people, meaning 100,300 was the average.
"We estimate that haze in 2015 resulted in 100,300 excess deaths across Indonesia, Malaysia and Singapore, more than double those of the 2006 event, with much of the increase due to fires in Indonesia's South Sumatra Province," scientists said.
The numbers significantly differ from Indonesia's official data which says that 19 people died from the haze. At the same time, the country's disaster management agency in October said more than 43 million Indonesians were exposed to smoke from the fires and half a million received respiratory problems.
"If nothing changes, this killer haze will carry on taking a terrible toll, year after year," Greenpeace Indonesia forest campaigner Yuyun Indradi said in a press release.
"As last year's fires raged, the Indonesian government said that 43 million people were exposed to smoke across the country, and half a million suffered from smoke-related respiratory illness. Now that we know the scale of the death toll, failure to act immediately to stem the loss of life would be a crime."
In the paper scientists also compared the impacts of the 2015 haze with those of 2006, when major smog was recorded as well. They noted a considerable rise in fires taking place in peat land and timber concessions. The results of the study also showed that the haze in Indonesia in 2006 was mostly due to fires deliberately set by authorities in order to make room for palm oil and pulpwood plantations.
"In 2006, burning in industrial concessions to clear land for oil palm and timber plantations accounted for 40 percent of total fire emissions in Sumatra and 25 percent in Kalimantan (Indonesian Borneo). As on oil palm plantations, fire on timber plantations is used to clear native vegetation quickly and cheaply in order to establish commercial wood pulp species," the report states.
Branding the study "groundbreaking," Greenpeace said the research would push authorities to act. It warned, however, that the numbers were a "conservative estimate" since the scientists mainly examined the cause of the hazardous PM2.5 substance consisting of the smallest micro-particles that are able to penetrate into the lungs and did not look at other toxins.
The blazes in 2015 in southern Sumatra and the Indonesian part of Borneo were said to be the worst since 1997 and swept through a swath of some 261,000 hectares. While a strong El Nino effect last year is said to have contributed to the tinder-dry conditions making forests and peat land more susceptible to burning, scientists at the same time fear that most of the fires were deliberately set by authorities for agriculture purposes.
You can share this story on social media: