French activist to sue police for losing his eye in tear-gassed protest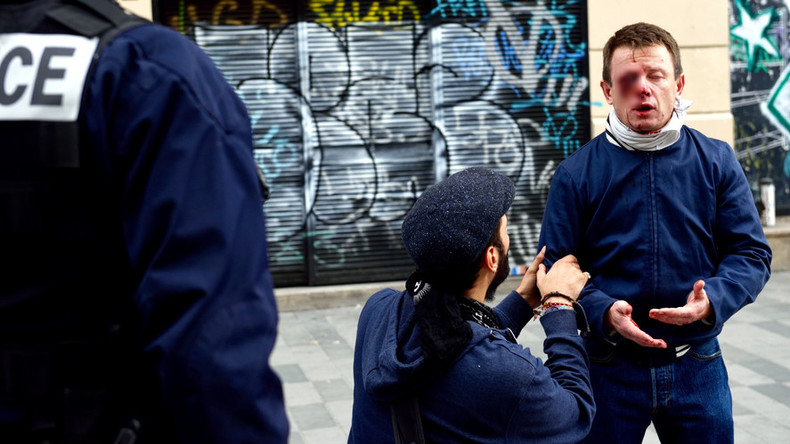 A French union activist, who lost an eye last week after police fired tear gas at labor reform protesters in Paris, is suing the French security forces. The activist claims a gas grenade hit him in the eye.
"I am going to send an official complaint myself. I will do everything to make sure justice prevails," 46-year-old medical secretary at a hospital in the Parisian suburbs, Laurent Theron, told the local BFM broadcaster.
"My hand was in my pocket. As the surgeon who operated on me said, a gas grenade was launched directly at me from close range. My eye burst from the force," Theron told Le Monde.
READ MORE: Policeman engulfed in flames triggers fury against French protesters (PHOTO)
The union that the wounded man belongs to, Solidaires, issued an official statement, saying that Theron was "apparently hit by a piece of a [tear gas] grenade fired by police."
"According to several witnesses, there was no justification to use force against Laurent Theron. There wasn't any action against police. Yet the security forces used tear gas, grenades, and… flash-balls," according to their statement published on the union's official website.
The union expressed their support, and said they "strongly denounce the disproportionate use" of non-lethal weapons that "left hundreds injured, sometimes very seriously."
"To date, no sanction has been imposed and the main [person] responsible for this situation, the Interior Minister B[ernard] Cazeneuve is still in office," the statement added.
Police opened a probe into the circumstances that led to Theron's injury, Local reported Saturday.
From 78,000 (authorities' estimates) to 170,000 people (as the CGT trade union put the number, speaking to AFP) took to the streets all over France last Thursday.
At least four protesters and 15 servicemen were injured in the rally, with two of them receiving Molotov cocktail burns.
The demonstration was one the latest in the months-long string of protests against labor reforms. The controversial law allows employers to hire and fire people more easily. President Francois Hollande and his government hope the reform will help cut high unemployment.