Unable to 'see beyond her own lifespan:' AfD's Petry slams Merkel for not having children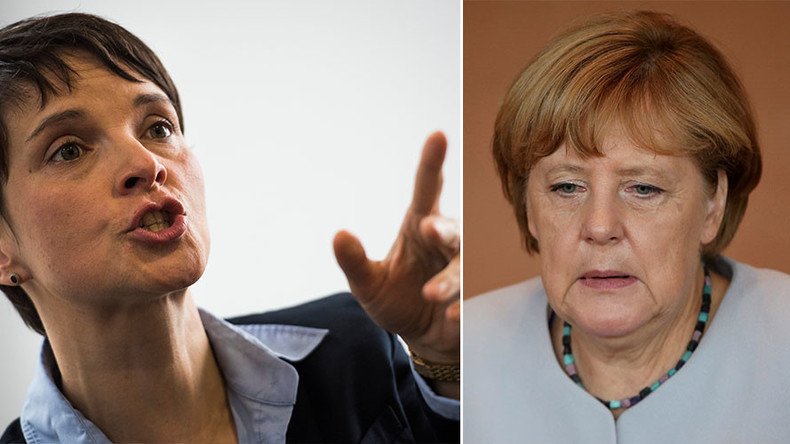 The leader of the anti-immigrant Alternative for Germany party, Frauke Petry, has launched a personal attack on German Chancellor Angela Merkel, alleging she is a worse politician because she does not have her own children.
Petry blamed Merkel's childlessness for the chancellor's political failures. "I have four children and Merkel has none," the AFD's Petry told Germany's Stern daily in an interview on Wednesday. "Children help people to see beyond their own lifespan and that is exactly what Merkel does not do," she added, implying that the chancellor is pursuing policies as if there were no tomorrow.
Merkel does not have her own children, although her second husband, chemistry professor Joachim Sauer, brought his own two children into her current marriage. In 2005, Merkel once said that she does not regret being childless. "It has just happened so," she said at that time, adding that it was not "a decision of principle," as reported by n-tv.de.
In the meantime, Petry also said that her party should challenge Merkel's Christian Democratic Union (CDU) on the wave of its recent electoral success and growing popularity. "In the mid-term, it is up to us to replace the CDU as a 'people's party,'" Petry told Stern, using the German notion that defines a party enjoying a widespread popular support among general population.
Meanwhile, Germans reacted to Petry's comments with skepticism and criticism.
"It is not the absence of children that is to blame for Merkel's bad policy. Mothers are not better politicians, as Petry shows," one person wrote on Twitter.
An schlechter Politik von Merkel sind nicht fehlende Kinder schuld. Mütter sind keine besseren Politikerinnen, wie Petry zeigt!

— Barbara König (@AWObarbara) September 14, 2016
"That is an absolutely low blow. We descend to a kindergarten level!" another Twitter user said.
Petry: "Ich habe 4 Kinder, Merkel keine!" - komplett unter der Gürtellinie... Wir begeben uns auf Kindergarten-Niveau! #fckAfD#merkel

— Tim von Werne (@tvonwerne) September 14, 2016
Some other people also wrote that politics have nothing to do with having children and Petry should not launch such personal attacks.
Petry repeatedly criticized Merkel for her open-door refugee policy and accused her of "giving up German sovereignty" as well as of being unable to cope with the refugee crisis.
In early September, Petry's AFD beat Merkel's CDU in regional elections and came second in Merkel's home state of Mecklenburg-Vorpommern. "The voters made a clear statement against Merkel's disastrous immigration policies. This put her in her place," Petry said at that time, commenting on her party's election results.
Established in 2013 following the euro crisis as a Eurosceptic party, the AfD then shifted its focus to immigration and refugees. The party is already represented in eight out of 16 German regional parliaments.
You can share this story on social media: