China deploys 2nd space lab into low Earth orbit (VIDEO)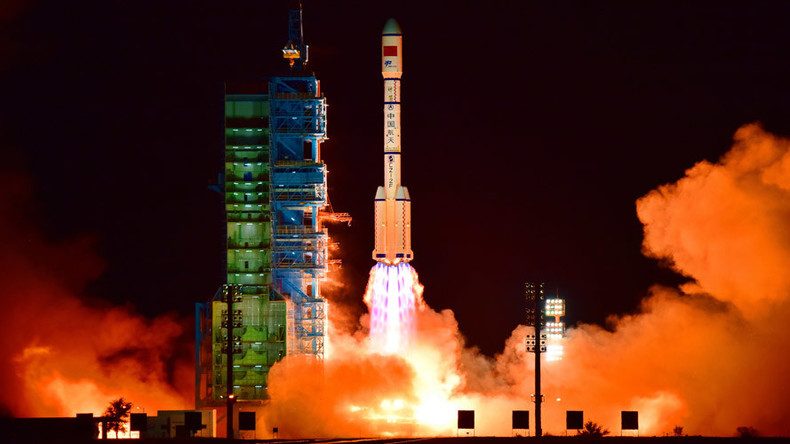 China has successfully launched the Tiangong-2 space laboratory into low orbit in the latest step of the country's cosmic ambitions to build a permanent modular space station. It may become humankind's only space hub after the ISS retires next decade.
China's Tiangong-2 space lab blasted off on the back of a Long March-2F T2 two-stage launch rocket at 10:04 pm Beijing Time from the Jiuquan Satellite Launch Center in northwest Gobi desert.
Tiangong-2 separated from the rocket that used four strap-on boosters during its first stage to reach the orbit 575 seconds after blast-off, mission control said declaring the mission a success.
The 8.6-tonne Chinese space laboratory, which is one of the components of the country's Project 921-2 space station program will orbit 380 kilometers above Earth for initial tests. It will then position itself about 393 kilometers above the Earth's surface.
Measuring 10.4 meters in length and up to 3.35 meters in diameter, the lab is designed to test life support systems, repair and maintenance functions, as well possessing the necessary refueling capabilities required for long-term human presence in space.
It is designed to enable two taikonauts to live in space for up to 30 days and can receive both manned and cargo spaceships. The first rendezvous is scheduled for next month.
When taikonauts arrive at the lab aboard the Shenzhou-11 spaceship, they will carry out key experiments in space physics and biology as well as aerospace medicine.
"The number of experiments carried out by Tiangong-2 will be the highest of any manned space mission so far," said Lyu Congmin with the Chinese Academy of Sciences.
After sending the country's first taikonaut Yang Liwei into space in 2003, China has been focusing on developing advanced spaceflight techniques and technologies to assemble and operate a permanent manned space station.
Unlike the International Space Station (ISS), which weighs 420 tons, its Chinese counterpart is much smaller but it can be expanded if other nations are invited to take part in international space cooperation.
Once assembled the station will initially consist of three parts: a core module attached to two 20-ton space labs. Planned for completion by around 2020, it will enter into service around 2022, enabling taikonauts to be stationed in orbit for missions that last more than one year. The station is designed for an operational life of at least 10 years.
China aims to have the only operational space station in orbit in the next decade, as the ISS is set to retire in 2024. Just like the ISS, China's station will be able to house a maximum of six astronauts simultaneously.
Besides the space station, China aims to send the Chang'e-5 probe to the moon in the second half of 2017 and to land a probe on Mars by 2022.