Bottles, wooden boards: Dozens of refugees, far-right mob & police clash in German town (VIDEO)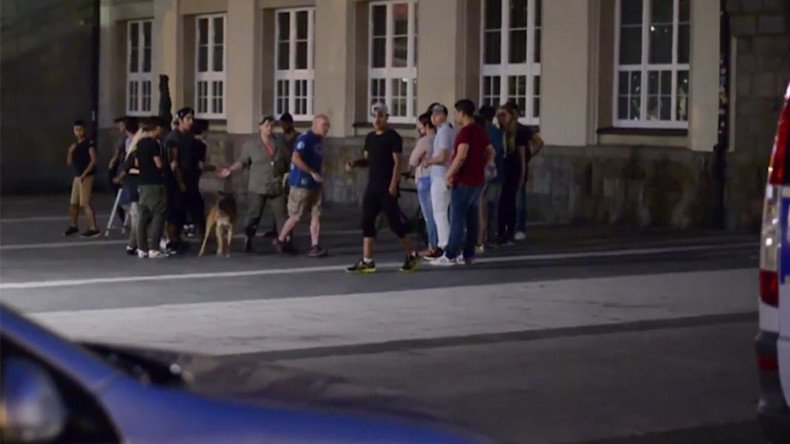 About 20 refugees clashed with some 80 locals, many of them reportedly far-right activists in the eastern German town of Bautzen, with both sides throwing bottles at each other and attacking police. The town has seen similar confrontations in recent months.
Around 80 locals, many of whom were "apparently" far-right activists according to police, clashed with some 20 migrants in Bautzen's market square on Wednesday evening.
Both crowds yelled at each other, with the far-right supporters reportedly shouting slogans that the marketplace and the town belong to Germans.
The confrontation escalated rapidly as asylum seekers started hurling bottles and wooden boards, the police said, adding in a statement that "the altercation was started by the asylum seekers."
About 100 police officers arrived on the scene, but found themselves in the middle of the fight, Spiegel magazine said.
Police used pepper spray and batons to separate the far-right activists and migrants, but unrest continued overnight.
Meanwhile, the far-right supporters followed the migrants back to their refugee center shouting nationalist slogans despite officers' efforts to keep the groups separated.
Throughout the night, three refugee centers in Bautzen were surrounded by police, who demanded the migrants stay there for their own safety.
Later in the day, some of the far-right activists threw stones at an ambulance to prevent it from reaching a refugee shelter in order to attend to a migrant who was reportedly injured in the clash.
Police have reportedly launched an investigation regarding migrants causing bodily harm after throwing glass bottles at the officers, according to Deutsche Welle.
The small town has seen repeated clashes between migrants and right-wingers over the past few months.
READ MORE: Far-right violence against refugee camps boom in Germany despite migrant influx slowdown

In February, an arson attack at a planned refugee center in Bautzen badly damaged the building, with multiple onlookers cheering and trying to prevent fire brigades from extinguishing the flames.
Previously, German law enforcement agencies said they feared the spiraling violence between far-right groups and migrants, who have arrived in overwhelming numbers. In August, the German Criminal Police reported 665 criminal offences against refugee centers from the start of 2016, including dozens of arson cases.
You can share this story on social media: