All-women crews sail for Gaza, hoping to break decade long Israeli blockade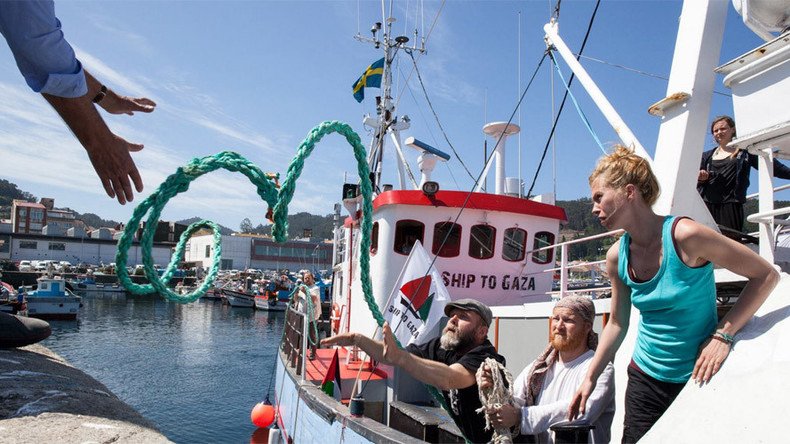 Activists, politicians, and cultural artists from around the globe are on board two boats which sailed from Barcelona on Wednesday evening, aiming to break a nearly decade-long Israeli blockade of the Gaza Strip.
The two boats, Amal (hope in Arabic) and Zaytouna (olive), will be completely 'manned' by an all-women crew.
Aboard are Nobel Peace Laureate Mairead MaGuire from Northern Ireland, Swedish European Parliament Member Malin Bjork, Marama Davidson, Green Party MP from New Zealand, American screenwriter and playwright, Naomi Wallace, and Cigdem Topcuoglu, a professional athlete from Turkey who sailed on the Mavi Marmara in 2010 and whose husband was among the 10 activists who were killed on that voyage by Israeli forces.
The 'Women's Boat To Gaza' flotilla is expected to reach the territory in early October.
Jaldia Abubakra, an Israeli born activist and a crew member, told RT Spanish that the women want to draw attention to the blockade "express our solidarity with the Palestinian women and the people of Gaza" .
"For us, as the women of the world, this fight is also important , it is important to show our rights and opportunities; to prove that we are able to send ships to the Gaza Strip ; to show that we stand in solidarity with women and people in the area," said Abubakra.
READ MORE: Israel starts building underground wall along Gaza border to counter Hamas tunnels
The Gaza Strip, with a total area of 365 square kilometers, has a population of more than 1.76 million, including 1.24 million Palestinian refugees.
Since the early '90s, Israel has imposed movement restrictions on the coastal strip which intensified after Tel Aviv imposed a land, sea and air blockade after Hamas took control of the territory in 2007.
The isolation of Gaza has been worsened by restrictions imposed by the Egyptian authorities on Rafah, its single passengers crossing.
In 2015, the last time the Women's Boat to Gaza attempted to deliver aid to the territory, the Israeli navy boarded and took over its vessel, Marianne. The boat was then taken to the Israeli city of Ashdod.
In 2010, a similar bid to break the blockade by a Turkish flotilla resulted in the killing of 10 activists by Israeli commandos, and caused a diplomatic row between Ankara and Tel Aviv.
You can share this story on social media: