Snap away! Selfies increase happiness among college students, study says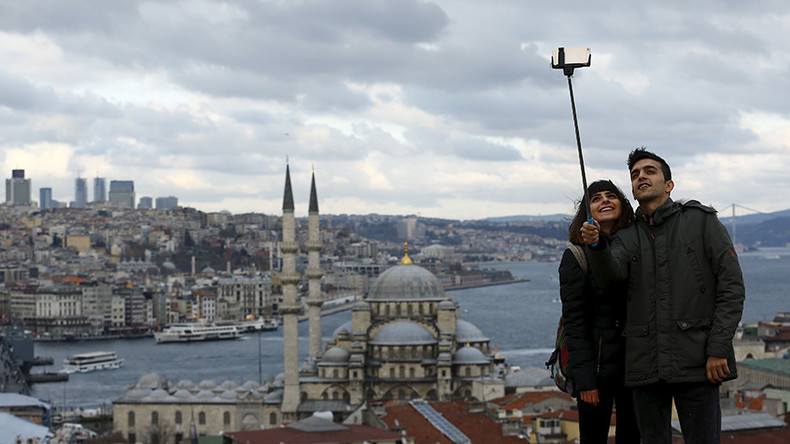 Constantly snapping selfies may seem a bit narcissistic, but a new study has found that taking photos on smartphones and sharing them online is actually linked to increased happiness levels among college students.
The research, conducted by academics from the University of California-Irvine's Donald Bren School of Information & Computer Sciences, studied 41 college students for four weeks. Among them were 28 females and 13 males.
The students were first invited to the lab for an informal interview, and to fill out a questionnaire and consent form. They were then instructed to continue with normal daily activities while taking part in the study.
Each student was assigned one of three types of photos to take, to help researchers determine how smiling, reflecting, and giving to others might impact the participants' moods.
The first category was to take a selfie each day, while smiling. The second was an image of something that made the participant happy. The third was a picture of something the photographer believed would bring happiness to another person – and that photo was then sent to that person.
During the first "control" week of the study, students documented their moods using a survey app on their phones. They used a different app to take pictures and record their emotional states during the following three week "intervention" phase.
The researchers collected nearly 2,900 mood measurements during the study, finding that subjects in all three of the photo categories experienced increased positive moods.
Some participants in the selfie group reported becoming more confident and comfortable with their photos over time. Students taking photos of objects that made them happy became more appreciative and reflective, and those who took photos that made other happy became calmer and said the connection to family and friends helped relieve stress.
"Our research showed that practicing exercises that can promote happiness via smartphone picture taking and sharing can lead to increased positive feelings for those who engage in it," lead author Yu Chen, a postdoctoral scholar in UCI's Department of Informatics, said in a statement. "This is particularly useful information for returning college students to be aware of, since they face many sources of pressure."
Chen even went so far as to say that mobile phones can be used as a source of stress relief.
"The good news is that despite their susceptibility to strain, most college students constantly carry around a mobile device, which can be used for stress relief," she said. "Added to that are many applications and social media tools that make it easy to produce and send images."
Senior author Gloria Mark, a professor of informatics at UCI, said the study proves that technology can be used in positive ways – despite any negativity reported in the media.
"You see a lot of reports in the media about the negative impacts of technology use, and we look very carefully at these issues here at UCI," Mark said. "But there have been expanded efforts over the past decade to study what's become known as 'positive computing,' and I think this study shows that sometimes our gadgets can offer benefits to users."
The study was published in the journal Psychology of Well-Being.
You can share this story on social media: