Philippine leader seeks arms from Russia & China, pursues policies independent from US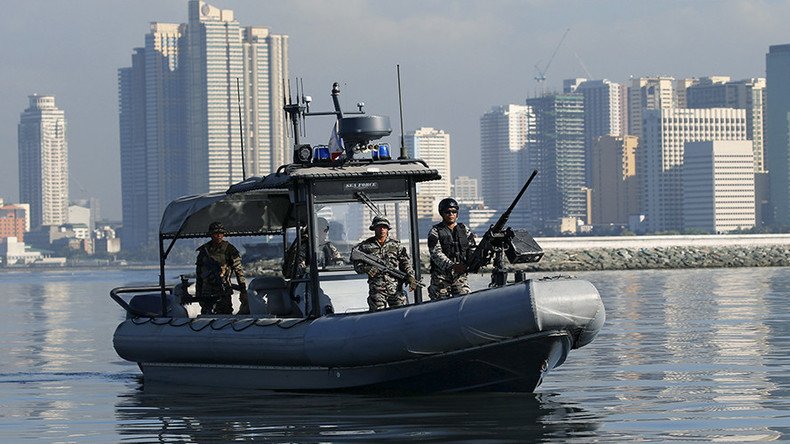 The Philippines will pursue "independent" foreign and military policies separate from US interests in the region, the country's president said, announcing that in order to avoid any confrontations with China he would halt joint Filipino navy patrols with the US.
The Asian country may now also look toward China and Russia in order to acquire new weapons so that it can improve its capabilities tackling insurgencies and terrorism in the country.
In April, the Filipino navy began joint South China Sea naval patrols with the US to respond to China building artificial islands over disputed reefs.
Philippine President Rodrigo Duterte, who has been openly critical of American security policies, announced in a televised speech Tuesday, before military officers in Manila, a 'paradigm shift' in the country's dealing with allies.
"We are not cutting our alliances – military (alliances) as well. But certainly, we will follow an independent posture and independent foreign policy," Duterte said.
The first step for the Philippines is to opt out of US-led patrols of the South China Sea because the country does "not want trouble," the president said announcing that his navy "will not join any expedition of patrolling the seas... because I do not want my country to be involved in a hostile act."
The second step that Duterte hinted at was the ending of the Phillipino reliance on US weaponry by at least partially shifting the procurement of arms to Russia and China. Duterte said that the two countries had agreed to give the Philippines a 25-year soft loan to buy military equipment.
READ MORE: 'Russia & China military posturing against unfriendly Western countries'
About 75 percent of the Philippines' arms imports since the 1950s came from the US, according to Stockholm International Peace Research Institute. Russia and China have since that time have been out of the loop.
In announcing a definite shift in defense policy, the president said that he wanted to buy arms "where they are cheap and where there are no strings attached and it is transparent."
"Let's contend ourselves with the propeller-driven planes but which we can use extensively in counter-insurgency," Duterte added. "I don't need jets, F-16 – that's of no use to us… we don't intend to fight any country."
The president said that Defence Secretary Delfin Lorenzana and "technical people" in the armed forces would visit China and Russia "and see what's best."
The shift in the country's foreign policy came a day after Duterte called for the withdrawal of US troops in Mindanao, supposedly to keep them from being killed by the terror group Abu Sayyaf. A limited US troop contingent was deployed to the country in 2002 to train, advise and provide intelligence and weapons to Filipino troops battling Al-Qaeda-linked militant group in the southern Philippines.
Presidential spokesman Ernesto Abella quickly jumped in to clarify that statement saying that the troop removal statement was just and "injunction" and a "warning" about the risks Americans face in Mindanao.
"Those statements are not policies set in stone," Abella said in a press briefing. "These are backgrounders for possible future action. There's a difference," he added.
The spokesman said that the Philippines would continue to honor agreements with the US such as the Enhanced Defense Cooperation Agreement (EDCA) and the Visiting Forces Agreement (VFA).
"We're not turning back on anybody. We are just charting an independent course," the spokesman said.
The country's Foreign Affairs Secretary Perfecto Yasay also clarified Duterte's message to US troops, saying: "There is no shift in so far as our policy is concerned with respect to our close friendship with the Americans."
State Department spokesman John Kirby said that Washington was aware of Duterte's comments, but was "not aware of any official communication by the Philippine government to that that effect and to seek that result."
Pentagon spokesman Commander Gary Ross meanwhile said that US-Philippine relationship "has been a cornerstone of stability for over 70 years."
"We will continue to consult closely with our Filipino partners to appropriately tailor our assistance to whatever approach the new Administration adopts," Ross said.
You can share this story on social media: