VIDEO: Russian, Syrian officers fall under fire during video link with Moscow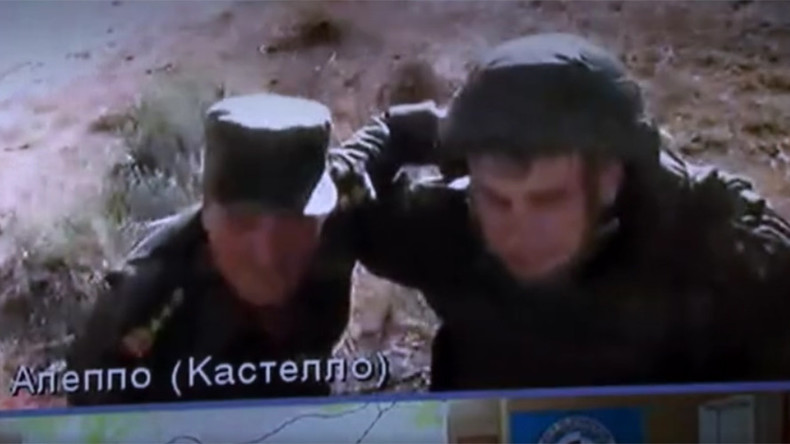 Russian and Syrian officers in Syria fell under fire while giving a report from Aleppo during a conference video call between Moscow and Russia's reconciliation center at the Khmeimin base in Syria. The two stood ground until the command center insisted they should run for shelter.
The video shows a Russian officer, identified as Colonel Sergey Kopytsin, and a Syrian officer standing on the Castello road leading to Aleppo giving an account on the current state of affairs in the region to the Russian General Staff official Viktor Poznikhir who chaired the video conference in Moscow as the shootout unfolded.
Read more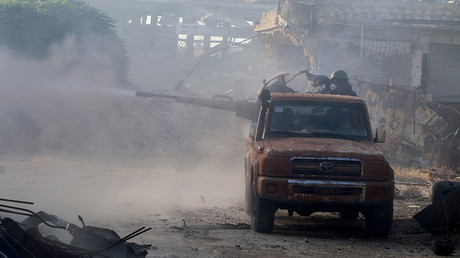 The two commanders cover each other and keep ducking during the firefight, still standing in front of the camera. However, they didn't leave the dangerous spot until the general in Moscow ordered them to take cover. There were no casualties, the Russian military later said.
The attack happened during the ceasefire in Syria brokered by Moscow and Washington that has already been violated 23 times by the so-called moderate opposition, according to Russian Army data.
Although the ceasefire came into force on September 12, six people died on Monday night in Aleppo and 10 more were injured in a shelling carried out by rebel forces, Kopytsin from the Russian Reconciliation Center in Syria reported Tuesday from Aleppo.
The Syrian government has expressed its readiness to set up a demilitarized zone around the Castello road to Aleppo which is a key tract for humanitarian aid convoys, the Russian Reconciliation Center reported.
"The [Syrian] government forces are ready to withdraw their troops simultaneously with the rebels and create a demilitarized zone around the Castello road, starting from 9am on September 15."