Former Israeli President Shimon Peres put into induced coma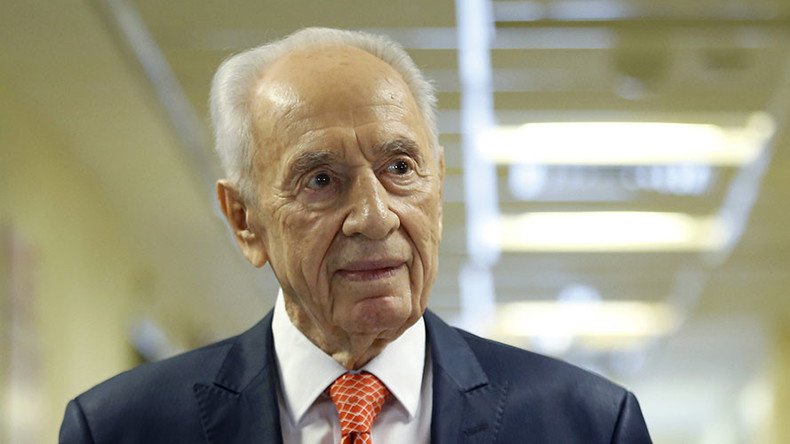 Shimon Peres, the former Prime Minister and President of Israel, has been put into a medically-induced coma at a hospital in eastern Tel Aviv, according to a statement from his office.
Peres's spokeswoman announced on Tuesday that the Israeli political heavyweight was rushed to the Sheba Medical Centre in Tel HaShomer after suffering a stroke, but said he was "stable and fully conscious" on Tuesday, AP reported.
אני מאחל לנשיא לשעבר שמעון פרס החלמה מהירה. שמעון, אנחנו אוהבים אותך והעם כולו מייחל להחלמתך.

— Benjamin Netanyahu (@netanyahu) 13 September 2016
Translation: "I wish former President Shimon Peres a speedy recovery. Shimon, we all love you and wish for your recovery".
Later, Reuters cited a statement from his office confirming that doctors had decided to put Peres into an induced coma.
Peres previously suffered a heart attack on January 14, 2016 and was admitted to hospital again two weeks later while suffering chest pains, but was released after two days.
Former President and PM Shimon #Peres condition has worsened and he is in a life threatening situation

— Paula Slier (@PaulaSlier_RT) September 13, 2016
One of the most influential leaders in Israel's 67-year history, Peres stepped down as president in 2014 after completing a seven-year term. He has held almost every senior political position in Israel over his 70-year career. He twice served as prime minister.
Peres was awarded the 1994 Nobel Peace Prize alongside the then Israeli Prime Minister Yitzhak Rabin and Palestinian leader Yasser Arafat, for the creation of the Oslo Accords - the groundbreaking agreement which brought Palestinians and Israelis to the negotiating table.
In early August, Peres spoke to RT about the Syrian crisis, saying he was sure Moscow and Washington could work together to resolve the situation.
He pointed to the 1962 Cuban Missile Crisis and 2011 "reset" in relations between Moscow and Washington as evidence supporting his views on possible cooperation between the two countries.
"I don't think that any of them would like to go to war," he said. "I think they quarrel because they have to convince their own people that they are the better side."
He also mentioned having met Vladimir Putin on numerous occasions and voiced his view that the Russian president "has in his heart, a wish not to fight Europe, but to be part of Europe."
Peres, along with former Prime Minister David Ben-Gurion are widely believed to be the leading forces behind Israel's alleged nuclear, chemical and biological weapons programs.
READ MORE: 'Israel and US nuclear secrecy: Deterring Vanunu from revealing truth'

For decades, Israel has pursued a policy of ambiguity - neither admitting nor denying - in relation to its nuclear weapons program. Much of what is known about Israel's nuclear capability came from Mordechai Vanunu, a former technician at the Dimona plant.
He gave the Sunday Times detailed information about the program in 1986. His disclosures led to a revision of the number of nuclear warheads Israel was believed to possess from a handful to at least 100, and possibly as many as 200.
Vanunu's damning revelations resulted in convictions for treason and espionage and he spent 18 years in prison, 10 in solitary confinement, in Israel. Peres, who was then prime minister, testified at the secret trial that Vanunu's leaks had seriously damaged Israel's security.
You can share this story on social media: