China calls Washington 'cause & crux' of N. Korean nuclear issue as US flies bombers over peninsula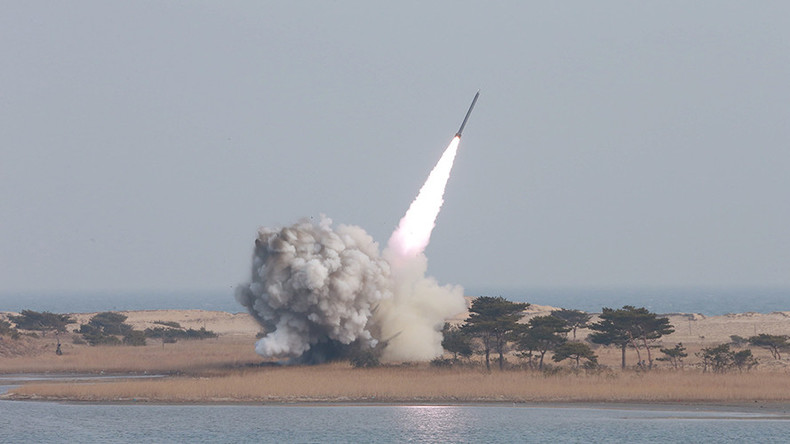 Beijing has blamed Washington for exacerbating the "vicious circle" of tensions on the Korean Peninsula after the US pinned the responsibility for Pyongyang's nuclear test last week on China's alleged lack of effort to resolve the North Korean nuclear crisis.
On Friday North Korea made headlines after conducting its fifth nuclear test. The 10 kiloton explosion set off an artificial earthquake and an avalanche of international responses condemning the test.
While Russian Foreign Minister Sergey Lavrov called for a more "creative" response to the situation rather than issuing endless rounds of sanctions, US Defense Secretary Ashton Carter over the weekend blamed China for its failure to curb the North Korean threat.
"I'd single out the role of China. It's China's responsibility. China has and shares important responsibility for this development and has an important responsibility to reverse it," Carter said.
The American assessment of the complex geopolitical tensions on the Korean Peninsula voiced by Carter resulted in widespread criticism in Chinese State media.
"The US has never thought of solving North Korea's nuclear issue, as it would be too complicated for it," read an editorial in the Chinese Global Times.
"China is not capable of persuading North Korea to give up nuclear development, because China's efforts are not supported by the others. Washington has been refusing to sign a peace treaty with Pyongyang."
On Monday, the Chinese Foreign Ministry issued a response to Carter's "unnecessarily modest" statement, blaming the US for the rise in tensions in the region.
As the North has stepped up its efforts to master nuclear technology and warhead delivery methods, the US and its close ally, South Korea, have agreed to deploy the THAAD missile defense system. Despite strong objections from China and Russia over missile defense positioning in close proximity to their borders, Washington has continued to show force in the region.
In August, the US upgraded its strategic nuclear bomber fleet in Guam and went on to conduct annual military drills with South Korea, under a recently-updated wartime operational plan, which reportedly involved the preemptive annihilation of North Korea's key military and nuclear facilities as well as its top leadership.
North Korea aggressively spoke out against the Ulchi Freedom Guardian military drills and THAAD deployment, threatening to nuke its neighbor and the US base in Guam.
Following the fifth nuclear test, on Sunday the DPRK Foreign Ministry said that "the US is the very one which compelled the DPRK to develop nuclear warheads." On Monday China apparently agreed with that statement.
"The cause and crux of the Korean nuclear issue rest with the US rather than China. The core of the issue is the conflict between the DPRK and the US," China Foreign Ministry spokeswoman Hua Chunying said at a briefing in Beijing, urging Washington to "search for an effective solution."
"It is better for the doer to undo what he has done. The US should shoulder its due responsibilities," the spokeswoman added.
The foreign ministry said that China has made "unremitting efforts" towards the settlement of the Korean nuclear issue but "a vicious circle of forceful actions and reactions" resulted in North Korean pulling out of the six-party talks in 2009. They aimed to peacefully resolve security concerns. China has made calls to resume the talks and has promised to bring relevant issues back on track for negotiations and consultations.
"It has been proved time and again that sanctions alone cannot solve the problem. Security concerns of parties on the Korean Peninsula must and can only be resolved in a way that serves all parties' interests. Any unilateral action based on one's self-interest will lead to a dead end. It will not help resolve one's security concerns but will only aggravate the tension, complicate the issue, and make it more difficult to achieve relevant goals," the ministry spokeswoman said.
Russia has also previously urged all parties to remain calm and not to escalate the already tense situation, with Foreign Minister Sergey Lavrov stressing that the UN Security Council resolutions "must be observed," as he called for a more "creative" response.
On Monday, Lavrov discussed the Korean issue with PRC Foreign Minister Wang Yi where the ministers condemned Pyongyang's actions.
According to Lavrov's statement, both ministers stressed the importance of all parties refraining from "taking steps that can lead to the further escalation of tensions," as both Russia and China confirmed a "commitment to a political and diplomatic resolution of the region's nuclear issue."
But as China and Russia urge for more diplomacy, South Korea's Defense Ministry said on Monday that North Korea is ready to conduct an additional nuclear test at any time.
"Assessment by South Korean and US intelligence is that the North is always ready for an additional nuclear test in the Punggye-ri area," South Korean Defense Ministry spokesman Moon Sang-gyun told a news briefing. "North Korea has a tunnel where it can conduct an additional nuclear test."
READ MORE: US to conduct bomber flight over S. Korea following Pyongyang's nuclear test – official
Meanwhile, the US continues to show force in the region: It flew two supersonic B-1 Lancer strategic bombers capable of carrying a nuclear arsenal over South Korea.
The low-altitude and low-speed flight over Osan Air Base in South Korea, that lies only 77 km (48 miles) from the Demilitarised Zone border with the North was conducted on Tuesday as a deterrent against further nuclear tests. The bombers were joined by US F-16 and South Korean F-15 fighters.
"North Korea's nuclear test is a dangerous escalation and poses an unacceptable threat," Gen. Vincent K. Brooks, the US Forces' Korea Commander, said in a statement. "Today's demonstration provides just one example of the full range of military capabilities in the deep resources of this strong alliance to provide and strengthen extended deterrence."