N. Korea confirms 5th nuke test, claims nuclear missile capability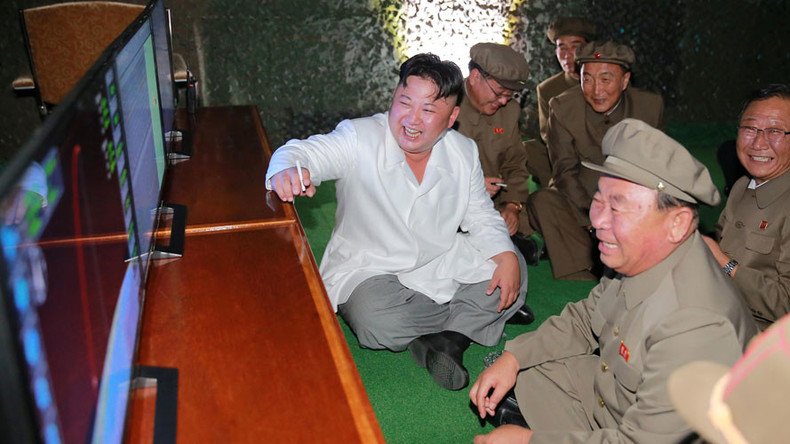 North Korea has confirmed it has conducted its fifth nuclear test, announcing it is now capable of mounting nuclear warheads on ballistic rockets. The statement came just hours after a powerful explosion was reported near the country's secretive nuclear test site.
"The standardization of the nuclear warhead will enable the DPRK [North Korea] to produce at will and as many as it wants a variety of smaller, lighter and diversified nuclear warheads of higher strike power," a statement from Pyongyang, posted on the website of the Korean Central News Agency, reads.
Pyongyang also claimed that no leakage of nuclear material had occurred in the test, and that there was no negative environmental impact.
A video released by North Korea appeared to show a tremor taking place near the test site.
Earlier, a powerful explosion measured 5.3 in magnitude was reported at the site of North Korea's bomb tests by the US Geological Survey (USGS), triggering reports of an apparent nuclear test.
South Korea's Defense Ministry told Yonhap news agency that "upon conducting an analysis, we came to the conclusion, that the North has carried out a nuclear test."
South Korean President Park Geun-hye accused North Korean leader Kim Jong-un of "maniacal recklessness" for pursuing nuclear weapons program despite severe sanctions, imposed on the North by the UN for repeated violations of Nonproliferation Treaty (NPT), as cited by Reuters.
South Korea is reportedly set to hold consultations with US and Japan regarding North Korea's newest nuclear activity.
"Foreign Minister Yun Byung-se, now traveling in Laos with President Park Geun-hye, is seeking to have consultations with close allies," a senior South Korean official told Yonhap, adding that Byung-se is going to speak with US Secretary of State John Kerry and Japanese Foreign Minister Fumoi Kishida via a phone call.
South Korea's prime minister, Hwang Kyo-ahn, is set to hold an emergency meeting of the country's National Security Council (NSC), the PM's office told Yonhap in a statement.
China's foreign ministry has issued a statement saying it firmly opposes Pyongyang's nuclear tests.
Meanwhile, the Japanese government has lodged an official protest against North Korea's actions. The note was sent to Pyongyang via Chinese diplomatic channels, Kyodo News Agency reported.
A meeting of senior Japanese officials, including Prime Minister Shinzo Abe, has been scheduled, The Japan Times reported.
Washington announced it has been in close contact with its regional allies overseeing the situation.
In January this year, North Korea carried out its fourth nuclear test at the Punggye-ri Nuclear Test Site, which was registered as a 5.1-magnitude tremor by seismological organizations.
The latest test appears to be the most powerful one in the history of North Korea's nuclear program, South Korea's Defense Ministry said, adding that the yield of the previous January test was about 6 kilotons. Earlier tests were conducted in 2013 (6-9 kilotons), 2009 (2-4 kilotons) and 2006 (1 kiloton).
You can share this story on social media: