Hundreds of thousands rally to push for Catalonia's independence from Spain (VIDEO, PHOTOS)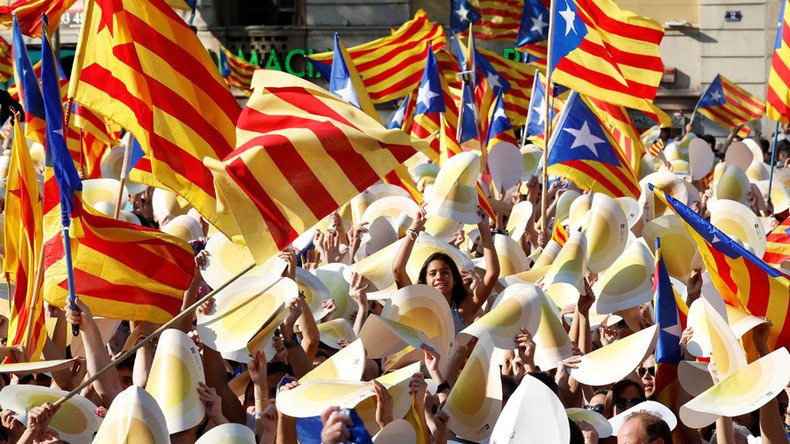 Hundreds of thousands have taken to the streets of five Catalan cities for rallies aimed at speeding up the process breakaway from Spain, local media reported.
Demonstrators carried national flags with some of them wearing traditional Catalan clothes or T-shirts bearing pro-independence slogans. Rallies spanned Barcelona, Salt, Berga, Lleida and Tarragona, Catalan News Agency reported on Sunday. A mass rally for Catalonia's national day, "Diada," expected over 340,000 people , according to AFP.
This year's event differs from the previous ones by its "decentralized" character which means the demonstrations which were previously held only in Barcelona have now reached other cities as well.
"Each year we try to come up with something new… this year we wanted to show that Catalonia is a diverse country and we walked away from being focused on Barcelona. We want to show the world that we are diverse, but united. We are a lively country, on the move, and we are standing on the threshold of turning into a new state," Natalia Estevez, vice-president of Catalan National Assembly, told RIA Novosti.
The gathering coincided with a split among separatist parties that came about after differences over a secession plan.
Following a clear win in Catalonia's regional parliament last year, the leaders of the pro-independence movement approved a plan ensuring Catalonia's independence by mid-2017, however, little progress has been made since.
The situation worsened in June when Catalonia's coalition government lost the support of the anti-capitalist party CUP which refused to approve the 2016 budget plan and subsequently lost the majority in the parliament.
Head of the regional government of Catalonia, Carles Puigdemont is now compelled to run a minority government with 62 seats in the 135-seat regional assembly.
Puigdemont is to face a confidence vote in parliament several weeks after the long-planned demonstrations, on September 28.
This year's rally has been described as crucial by Puigdemont, who noted that during the months to come "decisions will have to be taken that ensure Catalonia can freely choose its path," he said, according to AFP.
"I encourage you to fill the streets. We have to show that we are ready to finish this process that will convert Catalonia into an independent state," Puigdemont said in a video message ahead of the rally.
Barcelona Mayor Ada Colau has condemned the way Madrid is addressing the Catalan issue and stressed the importance of massive protests shortly before the celebrations kicked off.
"Once again, we have to remember that these massive rallies that we have been seeing in Catalonia, and that we will once again witness today on this 2016 national day, are unfortunately, more necessary than ever in order to vindicate what is obvious: democracy and respect people's diverse opinions. Sadly we are living in a situation of a complete deadlock provoked by the central government from the Popular Party," Colau said.
The protest is expected to give momentum to the pro-independence movement that has been faltering so far.
Catalonia's pro-independence roadmap that passed by the regional parliament was suspended by Spain's constitutional court in August. The suspension came on the heels of Madrid's allegations that Catalonia breached the Spanish constitution by holding a vote on the plan. The disputed roadmap was adopted by a majority of 72 votes.
"Don't doubt for a second to put out the ballot boxes", stated the president of Catalan National Assembly (ANC) Jordi Sanchez, adding that "this is the language which the democratic world will understand, the best tribute to democracy and to the world's free nations and the best instrument to keep this country together as one.
"We prefer the ballot boxes rather than the Court", he said.
Catalonia's pro-independence process "was started by its people and it is going to be finished by its people", believes Jordi Cuixart, the President of 'Omnium Cultural', an organiser of the pro-independence demonstrations since 2012
"The Catalan republic is won on the ballot boxes and is built on the streets", he said.
You can share this story on social media: