3 women wearing Burqa-like robes shot dead after attacking Kenyan police station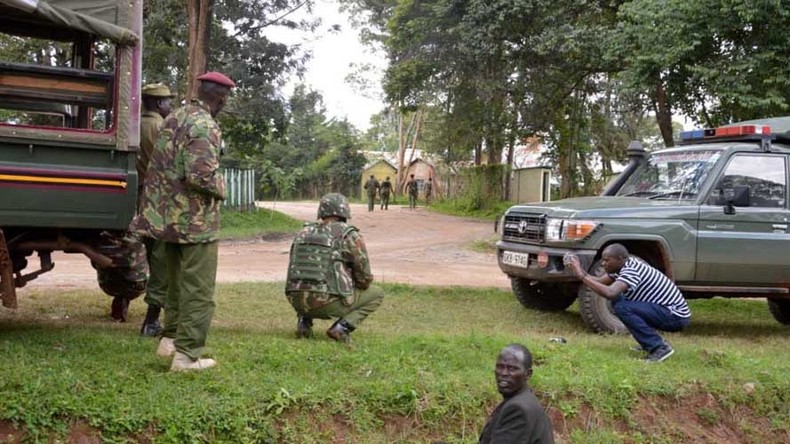 Three Kenyan women suspected of being militants were killed after they attacked a police station in the coastal city of Mombasa. The women had concealed a knife and petrol bomb under their traditional robes before attacking and being shot by police.
The assault took place on Sunday as the women were walking into the police station under the pretext of reporting a stolen telephone. The three women were all wearing buibuis – head to toe robes.
"While being questioned by officers, one drew a knife and the other threw a petrol bomb at the police officers," said Patterson Maelo, Mombasa County Police Commander, according to Reuters.
"The station caught fire. Police shot the three and killed them. Two officers are in hospital with wounds. Presumably it is a terror attack," he added.
Maelo did not release any details about which group had carried out the attack in the port city, which has a large Muslim population. The Somalia-based Al-Shabaab group, which has links to Al-Qaeda, has claimed responsibility for terrorist attacks in Mombasa and other parts of Kenya in the past.
Meanwhile, the Kenya-based Daily nation reports that one of the attackers was wearing a suicide vest, which police are trying to disarm.
"Al-Shabaab attacks soft targets in Kenya. This is not the first time. We are seeing an Al-Shabaab movement that is increasingly becoming much more confident at a time when the African Union-led forces are not as confident as they used to be simply because the EU has cut funding to the operations," Ayo Johnson, the founder of Viewpoint Africa, told RT in June.
In April of 2015, five gunmen from the jihadist group were behind an attack on Garissa University, which left 148 people dead.
Al-Shabaab says that attacks are being carried out in Kenya in retaliation for Nairobi sending troops into Somalia to conduct anti-terrorist operations. The militant organization has also launched terrorist operations in Somalia.
At least 15 people were killed in June when a suicide bomber struck a hotel in the capital of Mogadishu, after which a siege ensued. The Islamist militant group is fighting to overthrow the Somali federal government.