'Reconnaissance & sabotage': Russian paratroopers may get light-weight all-terrain vehicles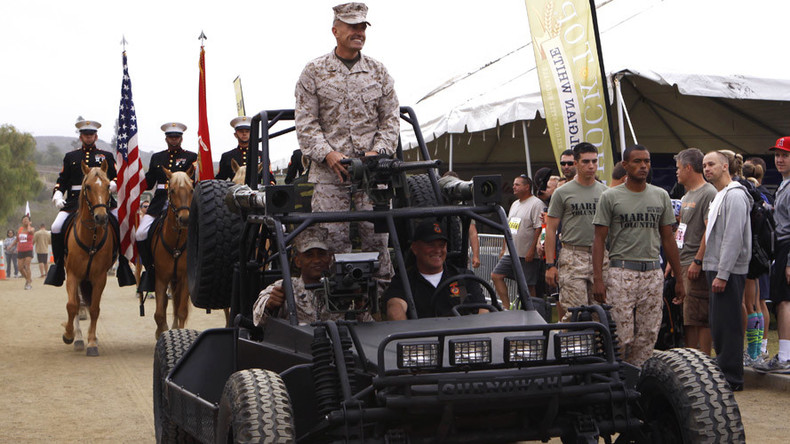 Russian airborne troops may get a new type of hardware – a light-weight all-terrain vehicle similar in purpose to the Chenowth Advanced Light Strike Vehicle (ALSV) produced for the US.
The potential addition to the arsenal is dubbed Escadron, the Russian defense ministry said. Its development was discussed during the ongoing Army 2016 military expo near Moscow.
"The planned small-frame armored all-terrain vehicle would be used for reconnaissance and sabotage missions. They would be armed with advanced weapon systems," the ministry said in a statement.
The ministry revealed some of the new vehicle's specifications, saying it would weigh no more than three tons and be able to reach speeds of up to 150 kilometers, and that its armament would include the Kord 12.7 mm heavy machine gun and four Kornet anti-tank guided missiles. The Eskadron would be designed so that it could be airdropped, obviously.
The Pentagon has several high-speed light-weight strike vehicles in service built by Chenowth Racing Products Inc. The Desert Patrol Vehicle (DPV) has been used since 1991 in countries like Afghanistan and Iraq that have abundant sandy terrain. The Light Strike Vehicle (LSV) and the Advanced Light Strike Vehicle (ALSV) are later improved models.
The Russian military didn't see the need for such type of specialty vehicles before and relied on heavier and better-defended models for mobility. However, Russian special forces do have even-lighter quad-bike style all-terrain vehicles in their arsenal.