Russia starts Phase 2 construction at Iran's Bushehr nuclear power plant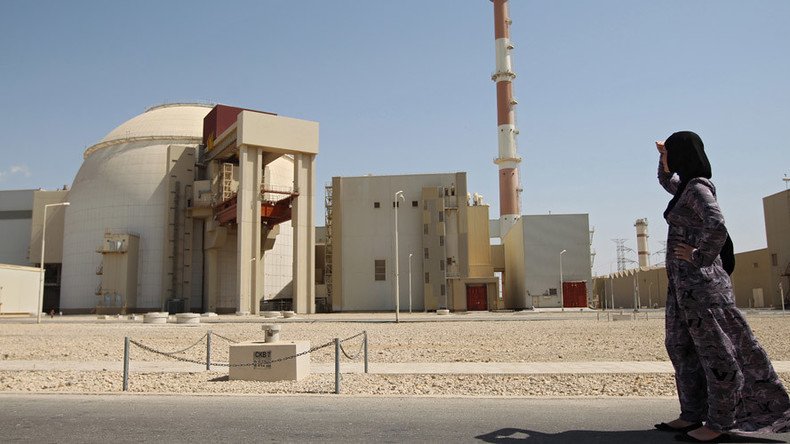 Iran and Russia have held an opening ceremony for Phase 2 of the construction of the Bushehr nuclear power plant, in which two more 1,000 MW reactors will be added at the site, while six more are still in the pipeline.
Phase 2, which was launched on Saturday, will add two VVER-1000 reactors to the one already operating in Iran. Their design was updated with additional safety features based on experience derived from the Fukushima nuclear disaster.
Russia and Iran signed a contract for the expansion of Bushehr in 2014, a year after Russian specialists commissioned the plant's first reactor. The contract includes an option for six more reactors, which could be built at other sites sometime in the future. Phase 3 may be commenced as soon as 2018, Iranian Vice-President Eshaq Jahangiri said during the ceremony.
The Bushehr project was launched in 1975 under the shah's government, but it ground to a halt after the Islamic revolution of 1979 because German manufacturers withdrew. Russia's nuclear construction company Atomstroyexport took over the project in the 1990s.
"The competition of Phase 1 has proven that Russia always delivers on its promises to foreign partners, regardless of the political climate in the world," said Russian nuclear chief Sergey Kirienko during the opening ceremony in Iran.
"Phase 2 is [Russia's] practical contribution to fostering Russian-Iranian cooperation and a big step forward in strengthening Russia's position in the world nuclear technology market."
The Bushehr plant is the first nuclear power facility in the Arab Middle East. Tehran estimates that each 1,000 MW reactor will save Iran 11 million barrels of crude annually. Iran is eyeing several ways to spend the additional megawatts, including powering a water desalination plant in Bushehr province.
"The plant would produce 200,000 cubic meters of freshwater per day, compared to the 50,000 to 60,000 cubic meters per day the province needs," said Iranian Atomic Energy Organization head Ali Akbar Salehi.
As part of the project, which is seen as a step in fulfilling Iran's ambition to develop a civilian nuclear industry, Russian specialists will also train Iranian staff working at the nuclear plant.
You can share this story on social media: