At least 4 dead, dozens injured as train derails in northern Spain – authorities (PHOTOS, VIDEOS)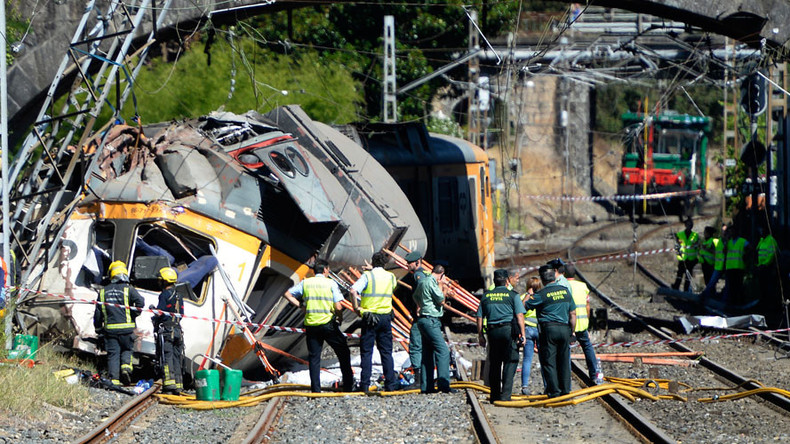 At least four people were killed and 47 injured when a passenger train derailed in the province of Galicia in northern Spain, local media reports, citing authorities. A Portuguese train driver and a ticket inspector were among the fatalities.
The accident took place when the train collided with a bridge near O Porriño municipality in the province of Galicia, La Voz de Galicia newspaper reported.
The train was travelling from the city of Vigo in Galicia to Valença do Minho, a municipality and town in Portugal. The incident occurred about 12 kilometers (7.4 miles) into the journey. According to La Voz de Galicia, the train derailed near O Porriño station and a local supermarket.
Among those injured were reportedly a Portuguese train driver and a ticket inspector from Vido, La Voz de Galicia said, adding that the train had been carrying some 65 people, including the driver and inspector.
The Local reported that of the 47 people injured, seven are in serious condition.
Three cars came off the tracks in the derailment. Photos from the scene indicate that the front of the train crashed into a transmission tower.
READ MORE: Driver was on phone at time of Spain train crash which killed 79 - investigators
According to the mayor of O Porriño, Eva García de la Torre, the crash took place in an area under construction.
Rail service at nearby stations has been interrupted due to the accident.
The train was operated by Comboios, a Portuguese state-run company that shares services with Spanish rail operator Renfe.
Renfe expressed its condolences to the victims and their families on Twitter.
Adif, the company responsible for maintaining the tracks in Spain's railway network, says it has opened an investigation into the cause of the crash.
In 2013, Galicia was the site of Spain's deadliest rail accident in three decades. That crash left 79 people dead and 140 others injured after a passenger train derailed as it was approaching the city of Santiago de Compostela.
You can share this story on social media: