Driver was on phone at time of Spain train crash which killed 79 - investigators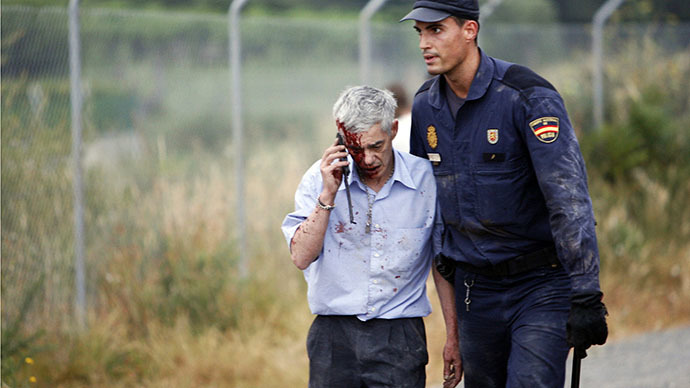 The driver of the high-speed Spanish train, which crashed killing 79 people last week, was talking on the phone when the accident occurred, the investigators said after opening the "black box" recorders.
The train was going as fast as 119 mph (192 kph), which is almost twice the speed limit, before derailing, the breaks were activated breaks just "seconds before the crash," a written statement by the Santiago de Compostela court investigating the incident, said.

It was also revealed that driver, Francisco Jose Garzon Amo, was talking on the phone to an official at the national rail company, Renfe, when the crash happened.  

"Minutes before the train came off the tracks he received a call on his work phone to get indications on the route he had to take to get to Ferrol. From the content of the conversation and background noise it seems that the driver consulted a map or paper document," a court statement stated.  

The contents of the two "black boxes" from the train wreckage were examined by representatives of the Santiago de Compostela court, forensic police experts, the Ministry of Transport and Renfe.


Amo has been provisionally charged with multiple counts of negligent homicide. He was released from custody until the hearing after giving up his passport and agreeing to return to court once a week.  

The driver has admitted to reckless behavior to the police. The investigation also found that the 52-year-old violated the speed limit regularly and even boasted about it on social networks.

The fatal crash took place on July 24 near the city of Santiago de Compostela. The train, carrying 218 passengers, derailed as it entered a high-risk curve at high speed, slamming into a concrete wall, with some of the cars catching fire.

79 people were killed and another 130 injured, with dozens of passengers still being treated in hospitals.

The Spanish rail agency has said the brakes should have been applied four kilometers before the train went into the curve.

The accident occurred right after the point when the EU-sponsored European Rail Traffic Management System (ERTMS), which would've braked the train automatically, gave way to the outdated Spanish ASFA system.

It's the worst accident in the history of high-speed railways in Spain, which has avoided fatalities since it began operating in April 1992.