Chechen special ops center to invite US instructors, train Chinese commandos
Russia's state-of-the-art Special Forces training center based in Chechnya will invite US and other international instructors to help counter-terrorism units from China, the UAE, Kazakhstan, and Belarus sharpen their shooting and hostage rescue skills.
The sophisticated training facility in the southern Russian city of Gudermes is to be officially opened this autumn, but it has already attracted much attention from elite counter-terrorism units from all over the world, said Daniil Martynov, the head of the Chechen Republic's aide in charge of law enforcement agencies.
"We will invite US-based private experts with experience in, say, shooting training, to conduct workshops," Martynov told RIA Novosti on Wednesday.
"We collect the best [training] practices from all across the world and then integrate them at our center," he added.
Officially called the International Special Forces Training Center, the four-square-kilometer site features sophisticated live-fire facilities, including a live-fire kill house simulating a residential area, as well as a variety of typical urban environments, according to RIA Novosti.
Over 200 Chechen and international instructors will train their students in hostage rescue, urban warfare, anti-insurgency warfare, and industrial climbing.
The training facility has drawn much attention from other countries, Martynov stressed. "We have already discussed and launched cooperation with our Chinese partners; they are quite interested in working with us and sendinb their personnel.
"Chinese [Special Forces] operators will arrive once the center is inaugurated. In addition, we plan to send our delegation to China this autumn to share experience," he said.
Read more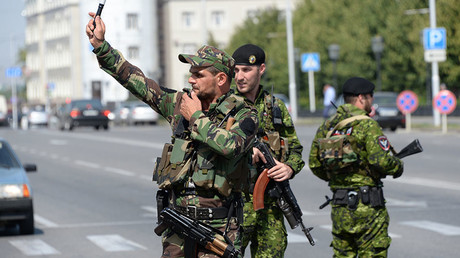 Martynov said the training center "has close ties with colleagues from Kazakhstan and Belarus," adding that "Middle Eastern countries are interested, too, for instance, our friends from the UAE."
The choice of the location for the center can be explained by the region's troubled neighborhood. Chechnya, which saw two major counter-terrorism operations in one decade, still struggles with Islamist radicals and their affiliates, though a remarkable effort has been made to end the long-lasting unease.
Ramzan Kadyrov, Chechnya's leader, has consistently said that his region remains at the forefront of Russia's fight against terrorism.
"Russian Armed Forces made the terrorists run with their tails between their legs in Syria," he recently wrote on Instagram, commenting on a nine-minute video released by Islamic State (IS, previously ISIS/ISIL) in which the terrorist group threatening to unleash jihad on Russia.
"The terrorists' days are numbered. We can completely destroy [IS] in its own lair and if anyone decided to start moving towards Russia, we would interrupt this raid very far from our borders!" he stated.