'I will eat you alive': Philippines leader Duterte vows revenge on ISIS affiliate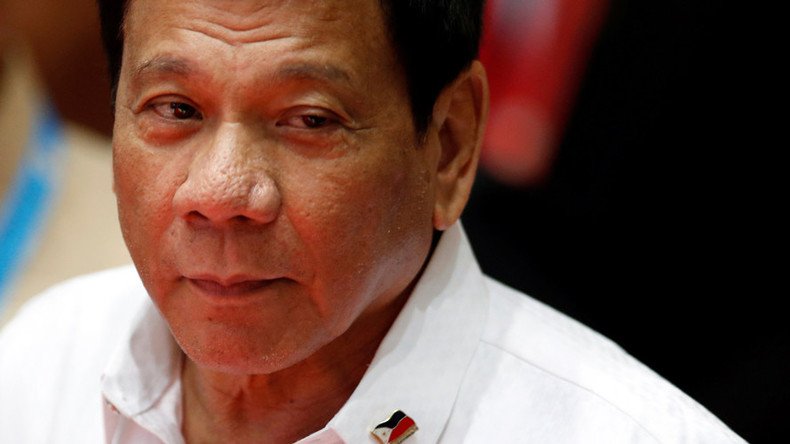 Philippines President Rodrigo Duterte has pledged to personally deal with a group of Islamist militants by publicly eating them alive. Duterte described in detail how he would carry out his revenge for last week's bombing on a night market in the country.
"They will pay. When the time comes, I will eat you in front of people," Duterte said on Monday night, addressing an audience including children while on a visit to Laos for a regional summit, AFP reported.
The statement comes in response to a bombing that took place last week at a crowded market in Duterte's hometown, Davao City, which killed 14 people and injured 68 others. The government blamed Islamic State-linked militant group Abu Sayyaf for the blast.
The group, which is based on remote southern islands in the Philippines, pledged allegiance to Islamic State (IS, formerly ISIS/ISIL) in a 2014 video.
The group has been put on the list of terrorist organizations by the US, and has kidnapped foreigners for ransom and beheaded two Canadians in 2016.
The president didn't mince his words when speaking of what he is planning to do with the militants, who are also accused of killing 15 local soldiers in August.
"I will really carve your torso open. Give me vinegar and salt and I will eat you. I'm not kidding," Duterte said, as cited by AFP.
"These guys are beyond redemption," he added.
The Philippines leader is known as a tough talker, with recent outbursts targeting US President Barack Obama.
On Monday, Duterte called Obama a "son of a b****" and warned the US president against lecturing him over the Philippines' human rights record. The US leader subsequently canceled his meeting with Duterte scheduled for Tuesday, September 6.
Afterwards, however, Duterte expressed regret that President Obama had taken the tirade as a personal insult.
Renato M. Reyes Jr., political activist and secretary general of Bayan (an alliance of leftist organizations in the Philippines), believes that President Duterte did not intend to insult Obama, but had instead tried to protect his country from outside interference, though in somewhat rude terms.
"I do not think Duterte was actually insulting the late mother of the US president. He was merely expressing how he would feel should the US try to intervene in the Philippines' domestic policy," Reyes said.
Duterte, 71, promised to fully eradicate the drug trade in the country as part of his election pledges, and launched a full-scale crackdown on drug dealers after taking office. The move has found vast support among Filipinos.
Human rights organizations, however, have condemned his methods, with 1,011 suspected criminals killed since June and another 1,391 deaths under investigation, according to the latest police figures revealed by AFP.
You can share this story on social media: