Pilot batch: Russian military get first T-14 Armata tanks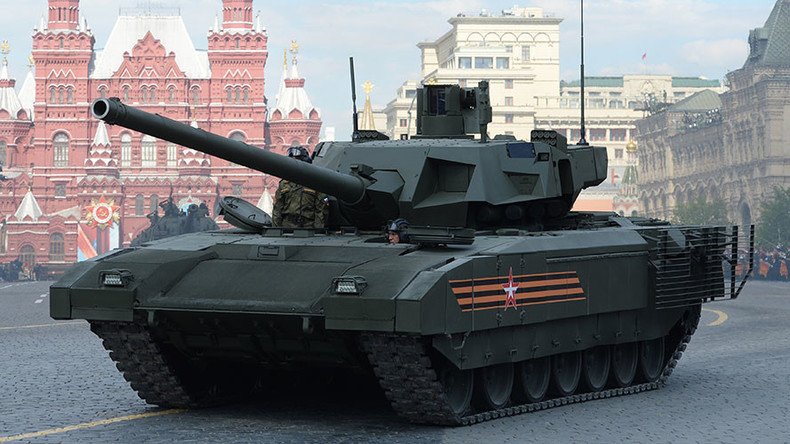 The Russian Defense Ministry has signed an order for a pilot batch of more than 100 state of the art T-14 "Armata" tanks, the first of which are already arriving for trials.
The deal signed with Uralvagonzavod, Russia's leading tank manufacturer and creator of the T-14 "Armata," will see the first batch used in comprehensive military tests simulating combat situations.
"We have a contract for a pilot batch of more than 100 machines. They are already arriving for trials," Deputy Defense Minister Jury Borisov reported, as quoted by RIA on Tuesday.
The announcement came during a military forum being conducted outside Moscow called "Army 2016." Officials have yet to disclose the exact cost of the deal.
The program to supply the Russian army with T-14s was initially planned to last until 2020, but, according to Uralvagonzavod chief Oleg Sienko, it is now due to be extended until 2025.
The Russian military estimates that it will need 2,300 of the state of the art tanks.
The T-14 was revealed for the first time on April 29th of 2015 at a rehearsal for the Victory Day parade in Moscow, but its turret was masked then. The official presentation was made on May 9th during the actual V-Day parade.
One of tank's main advantages is its fully automated and unmanned turret, as well as HD cameras that provide an outside view.
It is capable of moving at an estimated speed of up to 90 kilometers per hour, more than 20 kilometers per hour faster than the Abrams M1A2, the US' mainstay.
The 125mm cannon the T14 is currently equipped with is due to be upgraded to 152mm in later versions.
The Russian military and Uralvagonzavod's engineers also promise to turn the T-14 into a completely automated system that can be operated on the battlefield with only a remote control.
"Unmanned Armata is the machine of the future – we have no doubts about it. Both we and the military are sure," Sienko said back in April of this year.
Among other plans for the tank's future, the producers plan to attach a drone to the T-14 in order to give it a decisive advantage in battle.
The Armata's chassis also serves as a platform for the production of other types of armored vehicles, such as self-propelled guns and infantry fighting vehicles.
You can share this story on social media: