Turkey-backed Free Syrian Army eliminates 'terrorist microbes' along Syrian border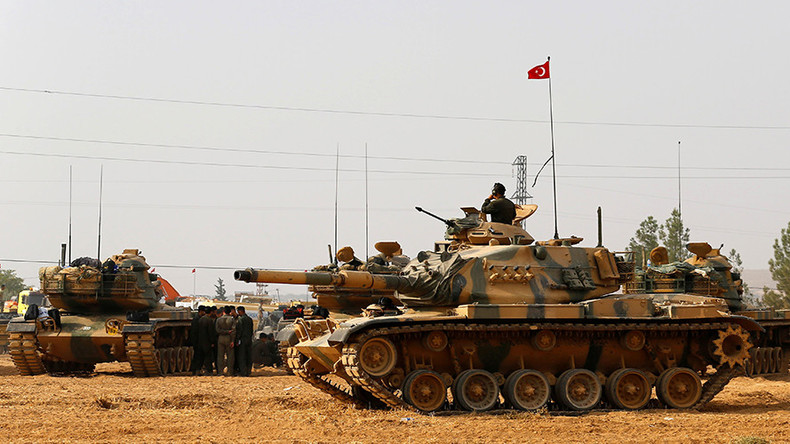 The Turkey-backed Free Syrian Army has "eliminated" ISIS and other terrorist "microbes" along a 55-mile stretch of the Syrian border, two weeks after Ankara opened a new front in its Euphrates Shield military operation in northern Syria.
After driving out Islamic State (IS, formerly ISIS/ISIL) militants from some 20 villages, Turkey has secured the border with its neighbor, the Turkish military said in a statement, according to Reuters.
Turkish Armed Forces (TSK) revealed that that the FSA now controls 10 regions in northern Syria, including Arap Izzah, El Fursan, Al Athariyah, Sheikh Yakoub, Vukuf, Ayyasa, and Al Mutminah, as well as Idalat, Talyah Darbiyah, and the Kubba Turkuman Airport in the El Rai region.
Security sources told Anadolu News that FSA now controls the 55-mile Turkish border with Syria in "all regions from Azaz to Jarabulus."
Sources also revealed that the Free Syrian Army, comprised predominantly of Syrian Arabs and Turkmen fighters, besides taking control of a number of new villages, also reached 24 kilometers south of the Turkish border and are now present in the Sucu Cayi region, west of the Euphrates River.
"With the new Free Syrian Army-controlled belt extending three to five kilometers inside Syrian territory, Daesh's physical contact with the Turkish border has been totally eliminated," Anadolu reported.
On Saturday, Turkey opened a new front in its Euphrates Shield military operation when additional Turkish tanks crossed the border into the Syrian province of Aleppo to attack ISIS positions.
The Euphrates Shield operation started on August 24 in the northern Syrian city of Jarablus when Turkish forces crossed into Syria under the pretext of targeting Islamic State positions along the border.
However, besides ISIS, the FSA and Turkey are clashing with the Kurdish YPG militia, which is part of the US-backed Syrian Democratic Forces (SDF). In 12 days of the operation, Turkey's backed FSA control took nearly 600 square kilometers from PYD/PKK and ISIS fighters.
While the government in Damascus is condemning the Turkish incursion as a violation of Syrian sovereignty, on Sunday the Turkish Prime Minister said that Syrian territorial integrity is "essential" for Turkey, as Binali Yildirim vowed to continue military operation south of the border.
"We have said that if there is one more rocket here, we will destroy you. As a matter of fact, we have entered Jarablus together with the Free Syrian Army. We will stay there until we get rid of all the microbes like IS, PYD and YPG," the PM said in the Turkish city of Diyarbaki.
"We will never allow the formation of an artificial state in the north of Syria," the PM added.
With Ankara being at odds with Washington over ongoing Turkish ground operations against ISIS which hampers operations of the US-backed forces, the Russian Foreign Ministry also urged Turkey to "coordinate its military actions in Syria with Damascus, refrain from attacking opposition and ethnic groups."
You can share this story on social media: