Israel pounds Syrian govt positions in Golan Heights with retaliatory fire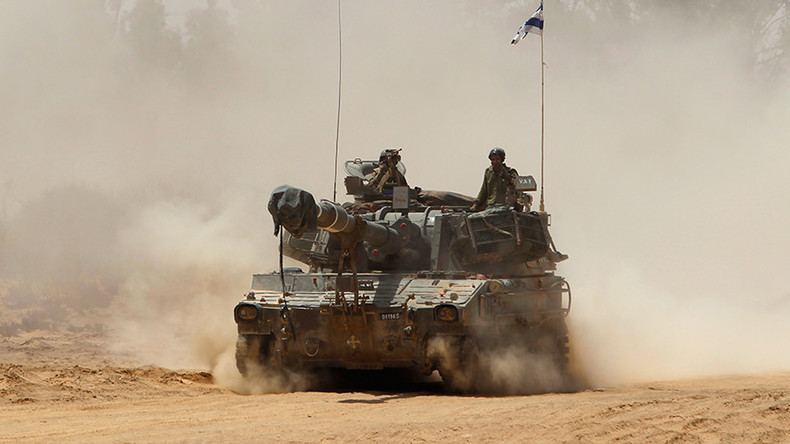 The Israel Defense Force has targeted Syrian army positions in the government-controlled area of the northern Golan Heights, it confirmed Sunday. The retaliatory fire caused "material damage," according to Damascus.
The mortars which landed onto an open area in the Israeli-held area of the Golan Heights, did not lead to any apparent damage, Israel said, without specifying the number of the shells it encountered. It did not immediately recognize the incident as stray fire.
"In response to mortar fire earlier today, the Israel Defense Force (IDF) targeted cannons of the Syrian regime in the northern Syrian Golan Heights," the military statement read.


"The Syrian government must be held accountable for this breach of Israeli sovereignty," IDF spokesman Peter Lerner wrote on his Twitter account. "The IDF will continue to act to safeguard Israel."
Following the IDF's retaliation strike, the Syrian Army announced that "the Israeli enemy continued to support terrorist organizations by attacking Mashati Hadar area in the countryside of Quneitra province with two rockets fired from a reconnaissance aircraft, causing material damage", according to Syrian state news agency SANA.
Israel holds Damascus responsible for any overspill of violence and considers any cross-border rocket fire a direct attack.
Since the start of the Syrian conflict, Tel Aviv has concentrated its efforts on protecting the Israeli-occupied Golan Heights, which occasionally comes under shelling. In a similar incident last month Israel targeted what it said was a Syrian army rocket launcher saying the move was a response to "stray fire from the Syrian conflict."
READ MORE:Israel shells Syria after stray mortar crosses into its territory

While Israel controls the majority of the Golan Heights territory it occupied during the Six Day War in 1967, the Syrian side of the border has come under intense fighting between the Syrian government and the Al Nusra Front in the recent years. Iranian Hezbollah has also been trying to establish its own positions in the area.