Dialogue with Saudi Arabia can aid resolution of Syrian crisis – Kremlin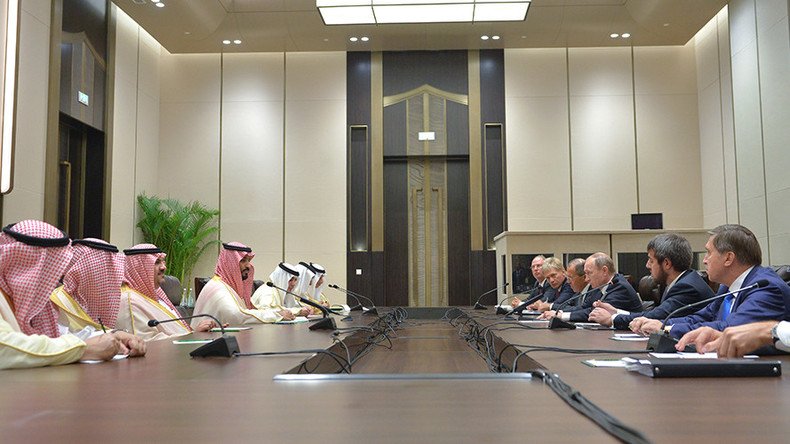 Riyadh's willingness for dialogue with Moscow, expressed during the meeting between President Putin and Saudi deputy crown prince Mohammad bin Salman at the G20 summit, can contribute to resolving the Syrian crisis, according to the Russian leader's spokesman.
LIVE UPDATES: G20 summit underway in China
Meeting on the sidelines of the G20 summit in China's Hangzhou, President Vladimir Putin and Saudi Deputy Crown Prince Mohammad bin Salman vowed to boost dialogue between both countries regarding bilateral ties and global challenges.
A particular point of potential cooperation is the current turmoil in Syria, according to Dmitry Peskov, the Russian president's spokesman.
"There was an exchange of views on Syrian affairs, with both sides having their nuances regarding the assessment of the issue. Yet at the same time, let's say, the will to intensify dialogue in all areas will probably be able to neutralize these differences," Peskov was cited as saying by Interfax.
During the meeting, the Russian president said that without Saudi Arabia "no single serious question in the region can be resolved," a statement on the Kremlin website states. That in return makes it "very important to maintain dialogue" with Riyadh, according to Vladimir Putin.
Saudi Arabia is part of the US-led coalition that is carrying out air strikes against Islamic State (IS, formerly ISIS/ISIL) in Syria.
Following the talks between Putin and bin Salman, Peskov noted that the mood of the discussion was a positive one.
"A very positive meeting: both sides expressed their interest in bringing bilateral relations, including economic, trade, investment and political ones to an advanced level. Riyadh expressed its willingness to address joint projects more specifically and intensify this process," Peskov said.
The Saudi deputy crown prince stated that relations with Moscow are of a "strategic character" for Riyadh.
"As for our cooperation with Russia, it has a privileged character," bin Salman stated, adding that joint efforts are bringing "lots of benefits" for the Middle East, including in the security sphere.
While talking about an increase in bilateral ties, both leaders also addressed the oil issue. Russia and Saudi Arabia have massively suffered from the oil price rollercoaster in the past two years, with the crude price tag reaching historic lows.
During Sunday's talks, President Putin reiterated that Moscow and Riyadh are "the world's largest oil producers."
Reacting to that, the Saudi deputy crown prince said that "there can be no stable policy in the oil area without the participation of Russia and Saudi Arabia." He went on to say that by joint cooperation the two countries can achieve solid results with respect to developments on the oil market.
You can share this story on social media: