'No more parallel Islamic law': Germany looks to up marriage age after flood of underage weddings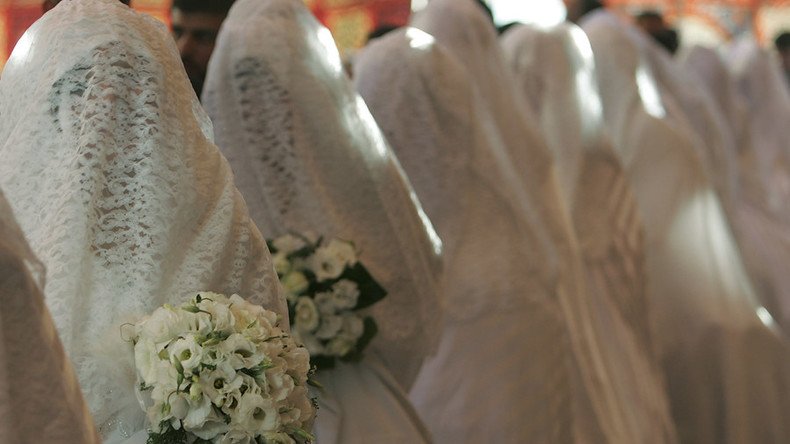 Senior politicians from Germany's ruling center-right coalition held a meeting to hammer out a new law that will stem the glut of marriages between older male migrants and under-18 women, who are often child brides imported from Third World countries.
"The priority of child welfare and the equal treatment of men and women are pillars of our society and our understanding of our values," said a strategy paper published by the Christian Democrats (CDU) and Bavarian coalition partners Christian Social Union (CSU) in the regional newspaper Passauer Neue Presse.
According to existing German law, a couple is allowed to wed if one or both of the partners have turned 16, but are not yet 18, as long as the future spouses obtain a court permission - usually with sanction from parents. Over the past year, more than 1,000 such weddings have been conducted across the country, the vast majority of them involving older Muslim men, many of them recent migrants, among the nearly one million, who have come to the country since the start of 2015.
A certain percentage of underage weddings is downright illegal, and involve pedophilia. Although exact figures are unavailable, some of the brides involved may not even have been 16, having been married outside Germany, where such practices are legally acceptable. Others arrive with forged documents that state that they are older than their true age, mostly as part of an arranged, or even a forced marriage.
"The annulment of foreign child marriages must be the policy going forward," said the paper. "When the youth office becomes aware of a child marriage in the future, it must file a petition for annulment."
The Deputy Chairman of the CDU/CSU group in the Bundestag, Stephan Harbarth, has called for a new universal age limit of 18 to be imposed by the end of the year, and has called on Justice Minister Heiko Maas, from the center-left SPD, to take action.
"Our proposal is on the table. We are ready to legislate," he told Passauer Neue Presse.
"According to our cultural ideas, child marriage is unacceptable… Also, arranged marriage – everyone must be allowed to choose their partner. We will not tolerate illegal parallel Islamic justice."
Faced with a huge number of as-yet unintegrated migrants, Germany is facing complex legal decisions on a host of culturally-sensitive issues, from the legal status of the burqa, to the impact of polygamy on inheritance law.
You can share this story on social media: