Swedish city rocked by 2nd night of violent clashes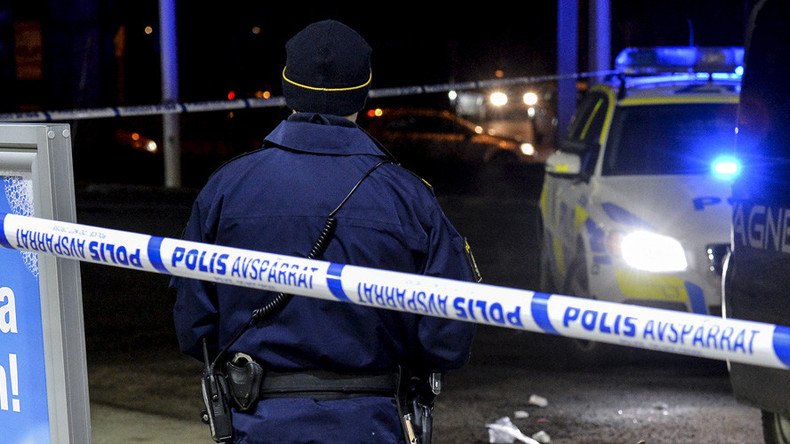 Violent clashes between locals and police have hit the town of Trollhättan in southwest Sweden for the second consecutive night. Firecrackers and stones were thrown at police cars while several bus stops were damaged, local media reported.
About 40-60 people, some of them wearing masks, took part in the Thursday clashes, Sweden's Ttela newspaper reported. The group threw stones and firecrackers at police cars, and also smashed bus stops and damaged car tires in Kronogården, a southeastern suburb of the city.
The disturbances ended at 2am Thursday morning, police said.
"We sent quite a lot of staff there to calm the situation down," police officer Sanna Lagerqvist told Aftonbladet newspaper. Police have made no arrests, according to the paper.
Similar incidents took place on Wednesday night.
READ MORE: Swedish politician says country 'facing collapse' due to mass influx of refugees
Following the attacks, police decided to hold a meeting with members of the local municipality on Thursday.
"We are going to have a number of meetings both internally and externally to go through the recent events and discuss how we will move forward in the coming nights," police officer Jack Lennartsson told news agency TT.
Police said they are trying to establish the cause of the disturbances.
"We haven't seen trouble of this kind before. There hasn't been anything expressed directly other than that people don't like a police presence in the area," Lennartsson said.
The city of Trolhättan, in particular the Kronogården area, were earlier mentioned in newspapers as the city was called the most highly segregated city in Sweden. Half of the population in Kronogården is said to have been born abroad.
READ MORE: Schools threatened day after deadly Sweden knife attack
In October a 21-year-old man wearing a Star Wars mask attacked Kronan School in the city, killing three people. The attacker, identified as Anton Lundin Pettersson, was shot by police at the scene and later died in hospital. Pettersson "was driven by racist motives" and the attack was a "hate crime," police later said.
You can share this story on social media: