Japanese military asks for record $50bn defense budget to oppose China, N. Korea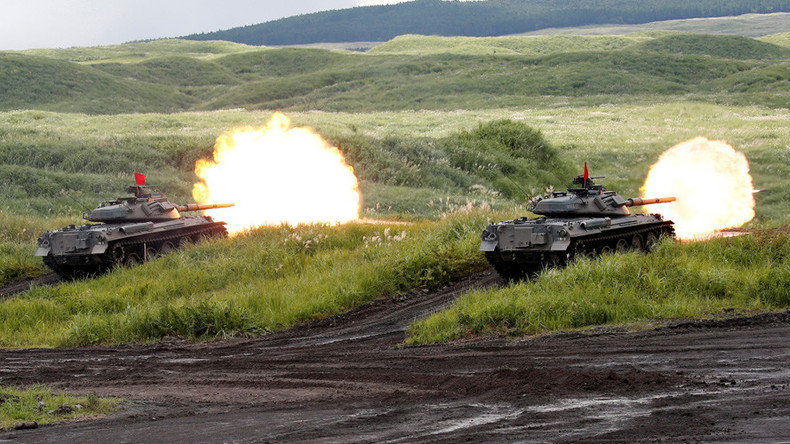 Japan is poised to hike its defense spending again, breaking the record for the fifth year in a row. The money would boost Tokyo's ability to oppose Beijing in the South China Sea and protect itself from a possible missile attack by North Korea.
Prime Minister Shinzo Abe's cabinet will require 5.17 trillion yen (US$50 billion) from parliament, the Japanese Defense Ministry announced Wednesday. If approved, it would translate into a 2.3 percent boost in the country's defense spending. The Finance Ministry is yet to check the request before it is potentially sent to legislators.
One of the biggest portions of the military budget, about $1 billion, would go on upgrading Japan's PAC-3 Patriot surface-to-air missile defense systems to increase range and accuracy for deployment in 2020, the submitted proposal stated.
The Japanese military also wants to develop a new submarine with advanced surveillance capabilities, work with the US on next-generation missile interceptors, station a 2,000-strong mobile amphibious unit near Nagasaki, and dispatch extra personnel in the Philippines and other Asian nations.
Tokyo may also purchase additional F-35 fighters jets from the US and develop better anti-ship missiles.
After coming to power in 2012, Abe overturned a decade of defense cuts and steered the country away from its post-World War Two pacifist stance by pushing for a larger role for the military. The increasing militarization is opposed by large sections of Japanese society, but the mood appears to be changing amid growing tension with North Korea and China.
Pyongyang recently demonstrated progress in its missile program, successfully launching a ballistic missile from a submarine earlier in August. Tokyo's standoff with Beijing is focused on a chain of islands in the South China Sea, which both nations claim sovereignty over.
The Chinese claims are being challenged by Japan's key military ally, the US, which has been sending warships and warplanes through the area. Earlier this month Beijing warned that if Tokyo joined the American "freedom of navigation" missions, it would "cross a red line."
Japanese Foreign Minister Fumio Kishida last week told his Chinese counterpart Wang Yi during talks in Tokyo that Chinese vessels must stop violating Japanese territory around the disputed islands.
You can share this story on social media: