Turkey says Germany's remarks on EU accession amount to 'cultural racism'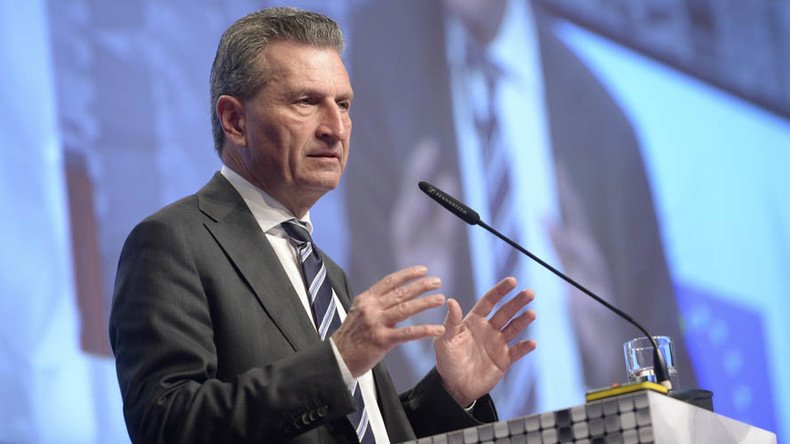 A statement by Germany's European commissioner saying that Ankara's EU bid is "unrealistic" while president Erdogan is in power has been described as "cultural racism" by Turkey's Minister of EU Affairs, Reuters reports, citing Anadolu news agency.
Turkish Minister of European Union Affairs Omer Celik was speaking to the state Anadolu Agency, Reuters reported.
On Tuesday, European Commissioner for Digital Economy and Society Guenther Oettinger told Bild newspaper that in the current circumstances Turkey's EU accession "is not realistic all through the next decade."
READ MORE: 'Unacceptable if we're not in': Turkey says it aims to be part of EU by 2023
"This will surely be an issue [for discussion] for the time after [President Recep Tayyip] Erdogan," he said. The official added, however, that Ankara is an important geostrategic and economic partner for the EU, and maintaining healthy bilateral ties is critical.
Talks between Ankara and Brussels on Turkey's EU membership have been going for a long time, with Turkey linking the progress in discussions on granting visa-free travel for its nationals to its contribution to a controversial refugee deal.
READ MORE: 'Negotiations are fiction': Austria & Turkey in EU membership spat
Brussels cites 72 conditions on issues such as the rule of law and human rights to be implemented by Turkey for lifting the visa requirements. A number of prominent European officials have accused Turkey of "blackmailing" Brussels or even behaving "like at a bazaar" by trying to raising the stakes.
According to EU officials, Turkey has failed to comply with the most important of the conditions, which is to relax its strict anti-terrorism laws, said to have been used to silence Erdogan's critics.
In July, Erdogan told German ARD broadcaster that Ankara had so far received only €2 billion (US$2.23 billion) of the promised €3 billion as part of the refugee deal.
"European leaders are dishonest," he said. "We have stood by our promise. But have the Europeans kept theirs?"
Also in July, Turkish authorities threatened to withdraw from the controversial refugee deal which Brussels hopes will help stem the huge flow of migrants into the EU.
"If visa liberalization does not follow, we will be forced to back away from the deal on taking back [refugees] and the agreement of March 18," Turkish Foreign Minister Mevlut Cavusoglu told Frankfurter Allgemeine Zeitung in an interview. "It can be early- or mid-October, but we are waiting for an exact date."
You can share this story on social media: