'No questions asked': Frenchman returning from Syria exposes 'porous' border control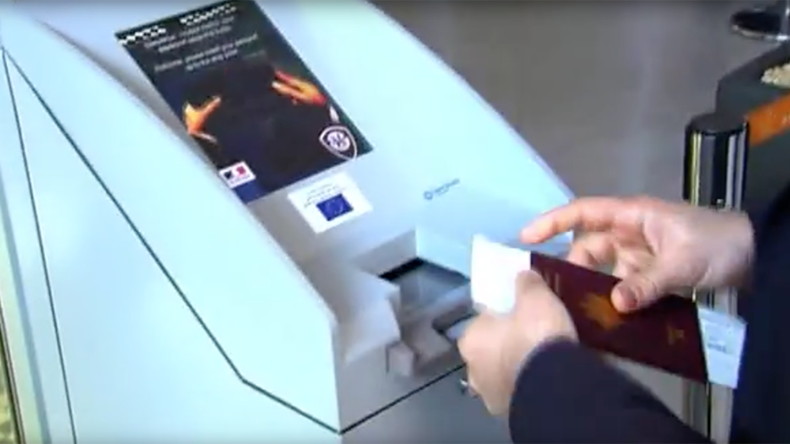 Despite a string terrorist attacks across France and increased numbers of ISIS fighters returning home from the battlefields, it could take potential terrorists mere minutes to cross the French border using E-passport gates at the airports, a French journalist told RT.
Damien Rieu captured his brief experience crossing the French border at Paris' Charles de Gaulle Airport earlier this month. Filming the ease of entering the Schengen Zone, a gatehouse to 26 European countries that have abolished passport and any other type of border controls, Rieu said that his experience took less than three minutes.
Posting the video, Rieu said that he was "amazed" how quickly he was allowed to enter France using his biometric passport, considering that he has just returned from Syria, a breeding ground for jihadists, whose fervent followers have continued to carry out atrocities in France for over a year.
France remains under a state of emergency that was implemented after terror attacks in Paris in November that left 130 people dead. In July the government extended the emergency state after an attack in Nice during which 84 people were killed and scores injured.
France deployed some 7,000 troops to sensitive sites, including schools, synagogues, department stores and other buildings seen as potential terrorist targets. However, based on Rieu's experience the authorities apparently failed to cover the airports.
"There is no strict police control on the French border, that does not check where I come from or what I do ... I find it a little scandalous, as we know about the problems with jihadists who leave Syria for other countries and there is no border control," Rieu told RT.
France is the primary country of origin of people who left to fight for Islamic State (IS, formerly ISIS/ISIL) in the Middle East, as more than 900 of ts citizens traveled to Syria and Iraq to join the extremists, according to research conducted by the International Centre for Counter-Terrorism (ICCT) this spring.
According to the research, almost 4,300 foreign fighters from the EU joined Islamic State in Syria and Iraq and about 30 percent of them already returned to their home countries.
Most of those returning to France could use the PARAFE e-passport automatic border control machines that allow quick border check processing at the French airports. To use the PARAFE system, registration on a national database is required beforehand. Citizens of the European Union, the European Economic Union, and the Swiss Confederation are eligible. Registration is valid for five years across all airports equipped with the PARAFE facility.
First installed in 2009, the PARAFE (Automated Fast Track Crossing at External Borders) system enables airports to reduce waiting times for border checks, using biometric authentication technology contained in the e-passport.
Since 2006, EU member states have been required to issue e-passports that contain a digital facial image, and since June 2009 EU states began issuing second generation e-passports that also include two fingerprints.
Such document allows faster entry at the border, where, according to the journalist who spoke with RT, "no questions are asked."
"There is a choice between a biometric entrance and human entrance. The first is for biometric passport-holders, and you are dealing with a robot which verifies your identity. Like you can see in my video, I give my passport, it is being scanned, then I scan my fingertips and the doors open. The second option is the 'human' pass, but this is not really verified too. They only see whether your passport photo matches with your face. But they do not ask any questions, don't ask where I come from, don't check visas. And this worried me," Rieu told RT.
While the e-passport system is designed to offer maximum security, threats do exist using such a system. In a report titled, Operational and Technical security of Electronic Passports, conducted by the European border agency, Frontex, the study noted that e-passports could be forged.
"The inspection and issuance procedures of e-passports are usually under the control of a national government and are, therefore, relatively difficult to subvert. However, a fraudulent person can exploit inherent weaknesses in the implementation of issuance and inspection procedures to pass inspection with an invalid e-passport or obtain an e-passport under a false identity," Frontex concluded.
In France, the electronic border system is being administered by Morpho, a division of the SAFRAN Group, a huge multinational based in Paris. On its website, the company boasts that its operating system enables Safran Identity & Security's IDeal Pass document to be read within three seconds.
From 2009 - 2015, Morpho delivered 41 first-generation automated gates to French airports. While the PARAFE 2 system has been approved by the French Ministry of the Interior, its security features lie in the hands of private contractors, as today, Morpho employs over 8,400 people in over 40 countries and in 85 subsidiaries worldwide.
As cyber espionage becomes stronger in the future, the potential theft of millions of e-passport accounts can also become a risk, not only to border security but also to the individual's privacy.
"Because of improvement in the technical security of passports, there is a shift of fraudsters to be expected from counterfeited passports to attacks on the issuance process and/or lookalike fraud," Frontex noted.
The border watchdog, however, seems most worried about the security features of Passive Authentication (PA) mechanism responsible for creating and verifying the digital signature.
Calling PA an "essential security mechanism" for e-passports, Frontex noted that "vulnerabilities in this mechanism would directly threaten border security."
"Vulnerabilities in other security mechanisms (Basic Access Control or BAC, Extended Access Control or EAC, chip protection profile, etc.) can pose a risk for the bearer's privacy, but not directly for border security."
Rieu believes that this type of security system can easily be exploited by the jihadist returning home from France.
"Look, I tell you about my own experience, I constitute that all people who return to the Schengen zone, who want to come from the Middle East (like Beirut, as there are no direct flights from Damascus to Paris), and Syria/Lebanon borders are very porous. Moreover, there are jihadists in Lebanon. And they should have asked me where I come from, what I do, to check my visa, etc."