French Economy Minister Macron resigns from Hollande govt ahead of likely presidential bid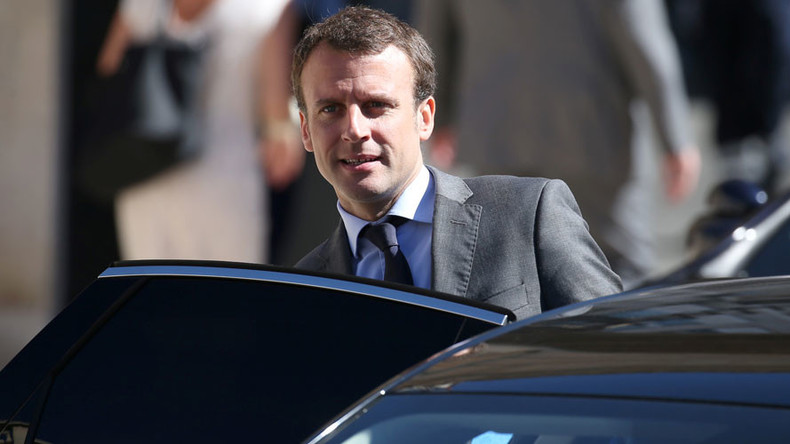 France's Economy Minister Emmanuel Macron has stepped down in what is seen as a move aimed at clearing the way for a presidential bid in next year's elections.
The French President's Office confirmed Macron's resignation on Tuesday, adding that Finance Minister Michel Sapin would take his position alongside his current post.
Le président @fhollande a remercié E. Macron pour son action depuis août 2014 et a nommé M. Sapin ministre de l'Économie et des Finances.

— Élysée (@Elysee) August 30, 2016
"Emmanuel Macron ... today handed in to the president of the Republic his resignation from the government to fully devote himself to his political party," President Francois Hollande's office said in a statement.
Later, Macron also confirmed his resignation in a twitter post. "I decided to leave the government in a peaceful way, not because I am against any of its policies but because I want to undertake a new action," he wrote.
J'ai décidé de quitter le gouvernement de manière apaisée, pas contre quelque chose qui a été conduit mais pour mener une action nouvelle.

— Emmanuel Macron (@EmmanuelMacron) August 30, 2016
Once a member of the ruling Socialist Party, Macron created his own political movement En Marche (On the Move) in April, which he described as leaning neither left nor right.
Macron, who is one of France's most popular politicians, earlier described himself as "not Socialist."
A former Rothschild investment banker, he has attacked some of the central pillars of the French socialist social model, such as the 35-hour working week. He was also repeatedly criticized by left-wing politicians for being too lenient towards big business, RFI reported.
Macron has not yet officially announced if he will run in the 2017 election, but told supporters at a rally in July that he would lead the movement to "a victory" next year.
He will not announce his presidential bid on Tuesday, an En Marche Party spokeswoman said following Macron's resignation from the government.
She added that the party will first focus on assessing the situation in France with a door-to-door campaign it started in May, stressing that the results of this assessment will be presented later in September.
"After that we will make proposals, and after that candidacy questions will be dealt with," she said, as quoted by Reuters.
Speaking to journalists after his resignation, Macron said he was planning to present proposals to transform France and develop a project that would serve the interests of the general public and open a new chapter in French history.
"I am determined to do everything so our values, ideas and actions can transform France, starting next year," Macron told journalists, as reported by Reuters.
A source close to Macron told Reuters that his resignation was provoked by a rapidly developing political situation, in which former President Nicolas Sarkozy and two former Socialist ministers announced their intention to run for president in the 2017 elections.
"We were originally going to wait until September 15 to take decisions, but the political environment has been so lively that he has to stake out his position," the source told Reuters.
Macron was appointed to the post of economy minister in August 2014, replacing Arnaud Montebourg.