Smashed courthouse, cop cars: Aboriginal boy's death sparks rampage in Australia (VIDEOS, PHOTOS)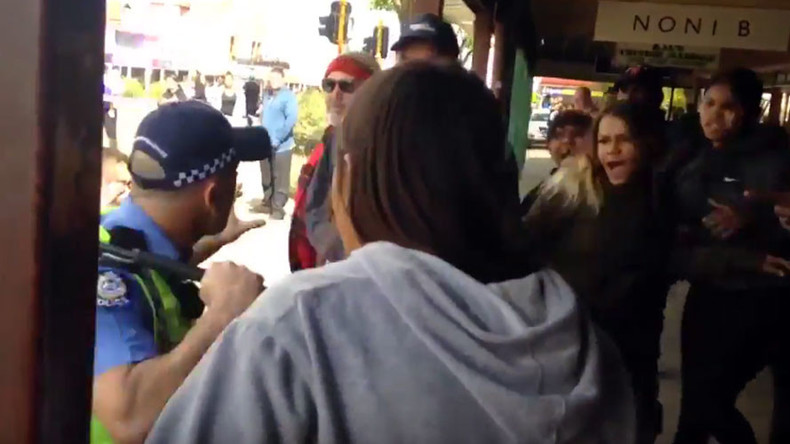 Riot police were deployed to a protest over the death of a 14-year-old Aboriginal boy, where demonstrators smashed the windows of police cars and tried to force their way into the courthouse where the man accused of causing the death was due to appear.
Elijah Doughty, 14, was riding a stolen motorbike when he was involved in a crash with a Nissan Navara utility vehicle on Monday. He was found dead next to the motorbike by police, who arrived at the scene after receiving a call about the crash.
Both the truck and the stolen motorbike were linked to a 55-year-old man whose name has not been released.
That man has been charged with manslaughter in Doughty's death, and was due to appear in the Kalgoorlie Magistrates Court in Western Australia on Tuesday morning – news of which attracted around 300 outraged protesters.
Believing Doughty's death was racially motivated, the protesters marched through the town shouting "We want justice!" and carrying banners which read "All lives matter, save our kids."
Many of the protesters managed to force their way through courthouse security, the Australian Broadcasting Corporation (ABC) reported.
Other demonstrators shattered the windows of the courthouse and police cars, and jumped on top of officers' vehicles.
Several arrests were made during the protest, and at least one officer was injured in the violence.
Western Australia police appealed to citizens to keep calm.
"We understand there is significant community concern over events in the Goldfields during the past 24 hours....members of the public have a right to protest, however, we encourage them to do so peacefully, or they may be arrested," the police department wrote on Facebook, adding that the investigation into Doughty's death is "ongoing."
Kalgoorlie-Boulder's acting mayor, Allan Pendal, said the city is supporting the police's decision to call for calm.
"We're not interfering with what the police are doing...any sort of these incidents are concerning, when innocent people are put at risk," he said.
Authorities made the decision to postpone the accused's Tuesday appearance in court, following the violent scenes outside the courthouse, the West Australian reported. The man, who is being held in custody without bail, is reportedly due to appear at the Stirling Gardens Magistrates Court in Perth via video link on Wednesday.
Tuesday's incident comes just one month after cities across Australia joined in protest over the government's response to videos of institutionalized child abuse at a detention facility. One video showed an aboriginal boy with a bag over his head being strapped to a chair by three guards. He was tied everywhere, including by the neck. The UN's special rapporteur on torture, Juan Mendez, said such abuse of juvenile detainees "could amount to torture."
While it remains to be confirmed whether Doughty's death was racially motivated, Australian human rights activist Jeanie Marie Walker told RT last month that "there is still a huge underlying racism amongst the Australian people towards the Aboriginals ever since British colonization…that culture has continued when you look at detention centers and places of authority."