German police probe vandalism & hatred after door to mosque gets bricked up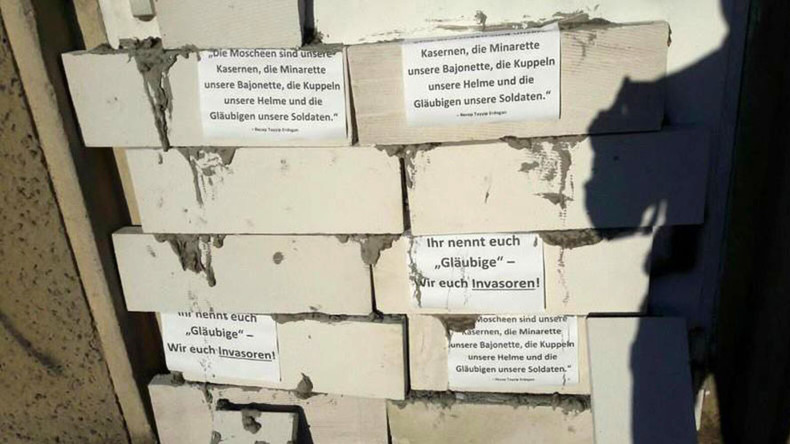 Unknown vandals have bricked up a door leading to a mosque in a small town in northeastern Germany, also putting up stickers bearing racist messages on the makeshift wall.
Police in the small town of Parchim in the northeastern German state of Mecklenburg-Western Pomerania have launched an investigation after a door to a local mosque, currently under construction, was found blocked with a one meter high brick wall last week, according to a police report.
Several flyers bearing anti-Islamic messages had been posed on the wall. Among them were "you call yourself believers, we call you invaders," and "the mosques are our barracks, the minarets our bayonets, the believers our soldiers," which is allegedly a quote from Turkish President Recep Tayyip Erdogan.
A criminal probe has been launched on two counts, including vandalism and the incitement of hatred, German broadcaster NDR reported.
By the time the police arrived at the scene, the wall reportedly had already been dismantled. However, activists from a local pro-refugee center were quick enough to capture and post a photo of what had been done to the mosque entrance on Facebook. Investigators hope the photo will provide evidence that could lead them to the perpetrators.
READ MORE: Hundreds join PEGIDA rally in Dresden to protest Berlin's migrant policy
A Facebook post by Network for Refugees in Parchim (Netzwerk für Flüchtlinge in Parchim) containing the photo of the makeshift wall said that the incident was the second time the mosque had been targeted in a racist hate crime.
In response, Parchim activists have left a note, saying: "Hello, my dear fellows! Walls exist to be knocked down. Never give up, stay strong and be happy! Never lose your spirit! I'm happy that there are nice people like you. You are great! Thanks a lot!"
The writing on the wall was also accompanied with a couple of heart images.
Hate crimes against refugees have been on the rise in Germany following Chancellor Angela Merkel's open-door policy regarding migrants from Syria and Northern Africa.
Especially common are arsons at refugee centers and other migrant facilities. Refugee shelters in Germany have been targeted more than 650 times since the start of 2016 with most of the attacks allegedly carried out by far-right activists, a recent police report suggests.
You can share this story on social media: