'Impeachment equal to political death penalty': Rousseff addresses Brazilian Senate ahead of trial
Suspended Brazilian President Dilma Rousseff has appeared before the Senate, which is set to vote on her political fate in the next few hours. Calling on the Senate to "vote for democracy," she said her impeachment would only deepen the crisis in the country.
"I am asking you to vote against the impeachment. Vote for democracy," Brazil's suspended president told Federal senators, before they started their questioning session, expected to last all day Monday.
Saying that accusations against her are unfair, and that she hasn't committed any crime against the budget, Rousseff said, "my conscience is clean. Depriving me of my [presidential] mandate is equal to a political death penalty."
Read more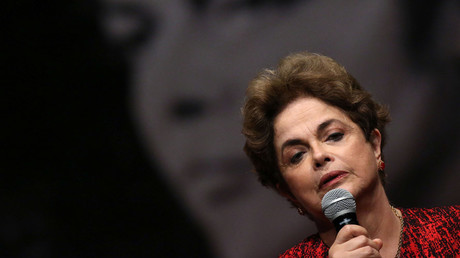 In her emotional speech, she added that she had feared death only two times in her life before – when she was tortured, and when she had cancer. "Now I am fearing the death of democracy," she said.
The suspended president reiterated that the initiative on her resignation was a plotted "coup" against her, "a woman who has won two elections," and her legitimate government. If she leaves the office, the economic and political crisis would only deepen, she told lawmakers. "I am calling on the senators – do not support the coup. It will not help to resolve the crisis in Brazil, but will only deepen it," she said.
Adding that the people who want her ousted from power act in the interests of privileged classes in Brazil, she warned that social programs that helped lift 30 million people out of poverty during her years in office would be cut off by the possible future government. State assets, including Brazil's offshore oil reserves, might also be sold by the new people in power.
Read more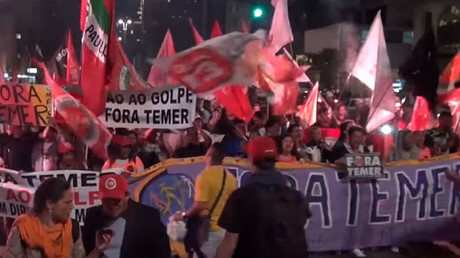 "My government made mistakes, but never betrayed voters," she said, adding that she would never resign, as she needs to defend the constitution. Although she has been personally betrayed, she and those deciding on her future in politics should think about the country and its people, she said, testifying in her defense.
The Federal Senate is due to make a decision whether to convict Rousseff, accused of having broken budget laws, by early Wednesday. For a decision to remove her from the office to be enforced, at least 54 of 81 senators must vote in favor of completing the impeachment.
Meanwhile, people in Brazil keep protesting the impeachment process on the streets and have expressed support for the suspended president. Hours before senators were to start their vote in the trial, hundreds of cheering people greeted Rousseff as she arrived to the Senate in the Brazilian capital, Brasilia.
"We are here to defend what we believe in – democracy and justice," a protester told RT. Another of Rousseff's supporters called for people's resistance to those senators who want her deprived of power, saying it's not right that "54 senators can remove a president who is elected by 54 million people."