Noam Chomsky, Oliver Stone, Stephen Fry condemn Rousseff's impeachment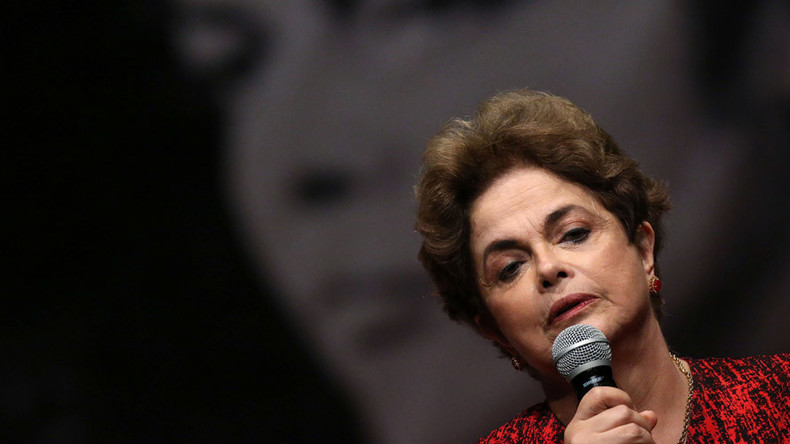 A host of intellectuals, artists and authors have signed a letter condemning the impeachment of the suspended Brazilian President Dilma Rousseff. It comes amid the controversial trial, which on its second day got off a rocky start in what resembled a yelling match.
Some of the great names who signed the letter included Noam Chomsky, Oliver Stone, Naomi Klein and Tom Morello.
"We are concerned about the politically motivated impeachment of the president, which installed an interim unelected government," the letter said.
"The legal basis for the ongoing impeachment is widely questionable and there is convincing evidence showing that the main drivers of the impeachment campaign are trying to remove the president in order to stop corruption investigations in which they themselves are involved."
The letter was signed by 22 individuals on Thursday. Other prominent names included the actor Stephen Fry, activist Arundhati Roy and actor Alan Cumming.
The letter also highlighted the attacks of the interim Michel Temer government on human rights, diversity and culture.
"We regret that the interim government in Brazil has replaced a diverse ministry, headed by the first female president, by a ministry composed of white men, in a country where the majority identify themselves as black or brown."
All of the signatories stressed that Rousseff's impeachment will trigger a massive negative repose across all of Latin America.
"Since Brazil is the fifth most populous country in the world, these events are of great importance to all who care about equality and civil rights," according to the text.
The full list of signatures includes: Tariq Ali, Harry Belafonte, Noam Chomsky, Alan Cumming, Frances de la Tour, Deborah Eisenberg, Brian Eno, Eve Ensler, Stephen Fry, Danny Glover, Daniel Hunt, Naomi Klein, Ken Loach, Tom Morello, Viggo Mortensen, Michael Ondaatje, Arundhati Roy, Susan Sarandon, John Sayles, Wallace Shawn, Oliver Stone and Vivienne Westwood.
In the meantime, the second day of trial against Rousseff was transformed into a yelling match on Friday, according to media reports.
The chaos began when Senate President Renan Calheiros said that "stupidity is endless," after bringing up Thursday's comment by Sen. Gleisi Hoffmann, who is a member of Rousseff's Workers' Party.
Hoffmann stated on Thursday that "no one here" had the moral ground to judge Rousseff.
In response, Calheiros said: "It can't be that a senator is saying things like this… I am very sad because this session is, above all, a statement that stupidity is endless."
Calheiros' comments led to a shouting match, forcing Chief Justice Ricardo Lewandowski to call for a recess.
It took a few hours for all of the senators to calm down and return to the chamber.
Rousseff was suspended in the middle of her second term. She is facing charges of breaking fiscal rules in teh management of the federal budget. However, she denies all of the allegations against her and has repeatedly called the impeachment a "farce" and said that her enemies are carrying out a "coup d'état."
Her supporters argue that the whole impeachment process was orchestrated by corrupt lawmakers who want to end the investigation into billions worth of kickbacks at state oil company Petrobras.
Rousseff is scheduled to address the chamber on Monday.